RELEASE DATE: 11/21/09
FOR IMMEDIATE RELEASE: Mansfield's Brenae Edwards wins IC4A/ECAC women's cross country championship against all NCAA Division I field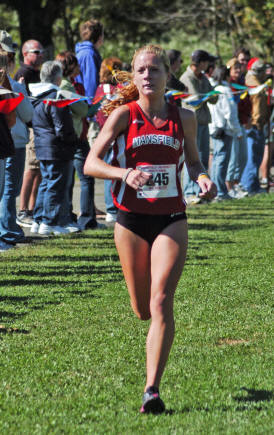 NEW YORK,NY -- Mansfield University junior standout Brenae Edwards took the lead in the last 200 yards and held on to capture first place in the University Division of the IC4A/ECAC Championship at Van Cortlandt Park in the Bronx Saturday afternoon.
Edwards, competing against an all Division I field, finished the 5k course in a time of 17:25.0, passed Rochelle Sceats, an Australian runner attending George Mason extending her lead to more than eight seconds before she broke the tape at the finish line. 192 runners finished the race.
"I just wanted to run a good race," said Edwards. "I wanted to be among the leaders at the end and thought I could -- things just worked out."
It was justification of sorts for Edwards, who missed a chance by one place to go to the NCAA National Championship after finishing sixth overall at the NCAA Atlantic Regional two weeks ago. Now she's Mansfield's first IC4A/ECAC cross country champion.
"Brenae just worked so hard and had such a great year," said head coach Mike Rohl. "She may have been denied a chance to run in the national championship, but I'll take an ECAC Champion any day."
Mansfield was the only NCAA Division II team to compete in the race which featured 19 NCAA Division I programs. The Mountaineers finished 12th in the 20 team field with 342 points. Marist College won the women's team title followed by the University of Albany, Towson and Binghamton University.
Clarissa Cummings was Mansfield's next highest runner finishing 50th overall with a time of 19:28.6 in the final cross country meet of her collegiate career. Freshman Becky Kratz was 72nd (19:50.9). Bethany Coons was 128th (20:39.0) with Irene Primer and Kelley Hollenbeck finishing 143 and 144 respectively.
The Mansfield men finished 16th over in the 24 team men's field with 382 points. Joe Stanek was the Mountaineers top finisher placing 23rd overall (26:34.6) in the 204 runner field.
Temple won the men's team title followed by the University of Albany, New Hampshire, Army and Pittsburgh.
Sean Vollenweider was Mansfield's next best finisher placing 68th overall (27:30.3) with Bud Plaszenski finishing 79th (27:36.6), Nate MacNabb 93rd (27:47.7) and Kevin Cusworth 142 (28:51.4).