RELEASE DATE: 7/01/09
FOR IMMEDIATE RELEASE: Mansfield menís and womanís cross country announces 2009 recruiting class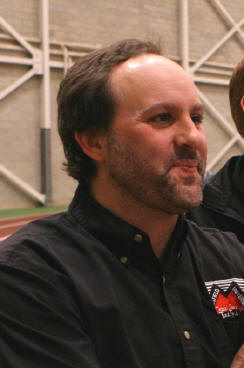 MANSFIELD Ė Mansfield University head menís and womenís cross country coach Mike Rohl has announced his incoming 2009 recruiting class.
The class features seven men and nine women and is the largest recruiting class in Rohlís nine seasons at Mansfield.
ďThis is a nice class,Ē said Rohl. ďWe were able to recruit three state qualifiers in both the menís and womenís programs and thatís something pretty special. We have a solid core of returners including the top three runners for both the men and the women. This class is really going to help us with balance and depth right from the start.Ē
The menís class is highlighted by Bud Plaszenski (Dubois/Dubois) who finished third overall in last yearís PIAA AA State Cross Country championship. Chris Hakes (Williamsport/Williamsport) participated in the AAA Cross Country championship while Orion Bernard (Shinglehouse/Oswayo Valley) was the District IX AA Cross Country champion.
The womenís recruiting class is led by Bethany Coons (Pine City,NY/Southside) participated in New York State cross country, indoor and outdoor track championships this past season. Becky Kratz (Lederach/Souderton) finished as high as 38th at the PIAA championship as a junior while Kaitlin Chegwidden (Hamburg,NJ/Wallkill Valley) participated in the New Jersey cross country championship.
The Mountaineers will open the 2009 season Lock Haven on Sept. 12 and will also travel to the Lucian Rosa Invitational in Parkside, Wisconsin as well has host the NCAA Division II Atlantic Regional Championship.
2009 Mansfield University Menís and Womenís Cross Country Recruiting Class
Men
Alex Beard (Wellsville/Dover)
Orion Bernard (Shinglehouse/Oswayo Valley)
Mike Dennis (Arkport,NY/Arkport)
Chris Hakes (Williamsport/Williamsport)
Bud Plaszenski (Penfield/Dubois)
Jonathan Purdy (Towanda/Towanda)
Alex Werner (Clifton/North Pocono)
Women
Margaret Bambling (York/Northeastern York)
Kaitlin Chegwidden (Hamburg,NJ/Wallkill Valley)
Bethany Coons (Pine City,NY/Southside)
Margaret Crandall (West Henrietta, NY/Rush Henrietta)
Tabitha Gallagher (Townville/Maplewood)
Becky Kratz (Lederach/Souderton)
Alyssa Pagano (Matamoras/Delaware Valley)
Amanda Raun (Milford/Delaware Valley)
Bethany Wigfield (State College/State College