RELEASE DATE: 5/08/09
FOR IMMEDIATE RELEASE: Mansfield's Mike Gray wins shot put at PSAC Championship – Junior also finishes 7th in hammer throw – Liberty's Ryan Detwiler scores points in high jump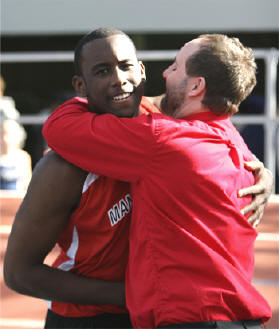 MILLERSVILLE – Mike Gray (Horseheads,NY/Horseheads) won the shot put with a heave of 51-03.50 during the second day of the PSAC Men's and Women's Outdoor Track and Field Championships at Millersville University Friday afternoon.
Gray, who finished second in the shot at last year's PSAC Championship, threw almost four inches further than second place Shaun Minnich of Shippensburg. It marked the second straight year he has won a PSAC title after capturing the discus crown at last year's meet. The discus will be held tomorrow and Gray is favored in that event also.
Gray also earned team points with a seventh-place finish in the hammer throw (165-10). Also earning team points was Ryan Detwiler (Liberty/Liberty) who tied for seventh in the high jump (6-01..25).
Although he didn't finish in the top eight to advance to tomorrow's championship events, freshman Justen Johnson had strong performances finishing 16th in the 400 (50.28) and 19th in the 200 (22.70). Mason Terisbury (Gillett/Troy) was 15th in the 400 hurdles (58.93).
The women's team didn't score any team points but missed by one place in qualifying for the championship in the 4 x 100 relay. The team of Erica Ferguson, Brooke McDaniel, Abbie Waltz and Jenelle Toter was ninth overall (49.44).
It was a busy day for McDaniel who also finished 10th overall in the 200 (26.15) and 14th in the 100 (12.27). Ferguson was 13th in the long jump (16-08) and Waltz ws 15th in the 400 hurdles (1:08.74).
The Mountaineer men were in eighth place overall with 12.5 team points going into tomorrow final day.