RELEASE DATE: 5/09/09
FOR IMMEDIATE RELEASE: Mansfield's Mike Gray named PSAC Championship Men's Field Athlete of the Meet – Junior repeats as PSAC discus champion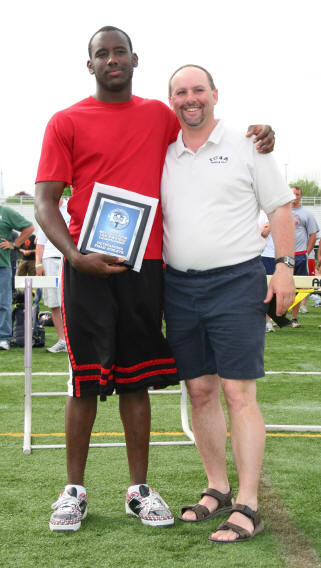 MILLERSVILLE – Mike Gray repeated as the discus champion at the PSAC Outdoor Track and Field Championship at Millersville Saturday afternoon winning his second event title in two days and earning Field Athlete of the Meet honors.
Gray, who won the shot put on Friday and also finished seventh in the hammer throw, took first place with a toss of 51-3 feet besting runner-up Shaun Minnich of Shippensburg by more than a foot. The duo also finished 1-2 in yesterday's shot put final.
"I'm thrilled and honored," said Gray after the meet. "I expected to win the shot coming in but I was worried about the discus. I've struggled with the discus for much of the season, but I got a good one out there and it proved good enough to win."
Gray becomes the first Mountaineer ever to win a individual title in two events at the PSAC Championship and the first to be named field athlete of the championship meet.
"It had been a frustrating season for Mike," said head coach Mike Rohl. "He had a finger injury early in the season that really put him behind schedule. But Mike's always been able to rise to the occasion in big meets and he certainly did that today."
Also earning points for the Mountaineer men were freshman Nate McNabb and Craig Barber. McNabb finished fourth in the 1500 meters with a time of 3:58.91 while Barber tied for seventh in the pole vault with a 14-1 foot effort.
Behind Gray's effort, the Mansfield men finished 10th overall in the team standings with 28.25 points.
A young women's team picked up its only team point of the meet in the 4 x 400 relay with the team of Meagan Savioli, Abbie Waltz, Brooke McDaniel and Erica Ferguson finishing eighth with a time of 4:01.17.
Brenae Edwards was 11th in the 3000 meter.