RELEASE DATE: 4/18/09
FOR IMMEDIATE RELEASE: Brenae Edwards, Mike Grey and Craig Barber earn first-place finishes at Brockport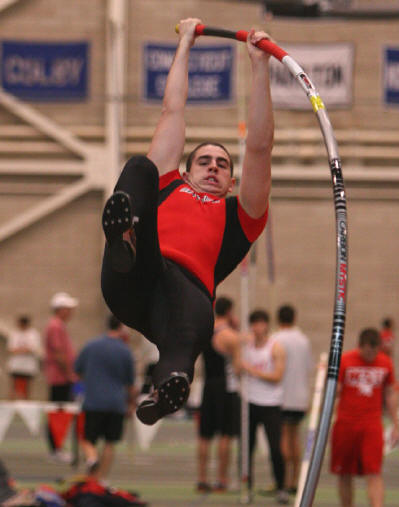 BROCKPORT,NY Ė Brenae Edwards, Mike Grey and Craig Barber all earned first-place finishes to lead the Mansfield University menís and womenís track teamís at the Brockport Invitational Saturday at SUNY-Brockport.
Edwards captured top honors in the 1500 meters with a time of 4:56.41 and also finished fourth in the 800 meters with a time of 2:30.71.
Grey won the discus with an impressive toss of 49.35 meters, almost five meters longer than the nearest competitor. Grey also finished fifth in the shot put (13.65).
Barber tied with two others for first in the pole vault at 4.35 meters.
Other top performers included Brooke McDaniel who finished second in the 200 (27.20) and 400 (60.36). Janelle Toter was third in the 100 (13.29) and fourth in the 200 (27.48). Abbie Waltz was fourth in the 400 hurdles (68.73) and Anastacia Canfield tied for fifth in the high jump (1.43 meters).
On the menís side, Nate MacNabb was second in the 1500 with a PSAC qualifying time of 4:04.27 and was third in the 800 (2:01.83). Joe Stanek was third in the 1500 (4:10.19) and Henry Potter fifth in the 800 (2:03.04). Justen Johnson finished fifth in the 400 (50.74).