RELEASE DATE: 4/27/09
FOR IMMEDIATE RELEASE: Gray wins shot put at Big Red Invitational to highlight impressive outing for Mansfield menís and womenís track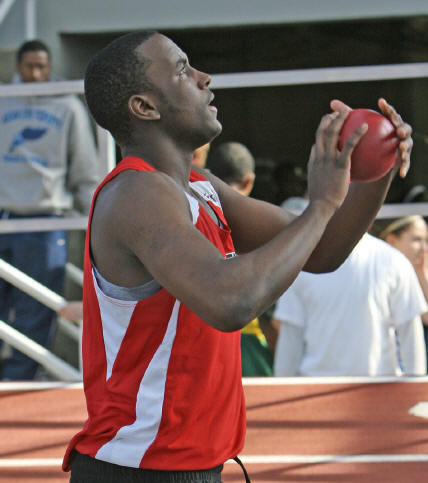 ITHACA,NY Ė Mike Gray won the shot put with a NCAA provisional qualifying heave of 53-05.75 to highlight an impressive outing for the Mansfield University menís and womenís track and field teams at the Big Red Invitational at Cornell University Sunday.
Gray, who also finished third in the discus with a toss of 158-01, threw almost a foot further than his nearest competitor in turning in the longest throw in the PSAC so far this season.
Joe Stanek finished second in the 5000 meters (15:50.78) with teammate Sean Vollenweider taking sixth (16:21.90). Freshman Justin Johnson qualified for the upcoming PSAC Championship in the 200 meters (22.79) and the 400 meters (50.04). He placed fifth in both the 400 and triple jump (42-10.75).
Sophomore Ryan Detwiler qualified for the PSAC in the high jump finishing seventh overall at 6-02.75. Freshman Craig Barber was sixth in the pole vault (14-09.00). Freshman Nate McNabb ran a personal-best and better his PSAC qualiftying time with a sixth place finish in the 1500 (4:02.41).
On the womenís side, Alicia Edkin set the school record in the hammer throw with a toss of 105-02. Brenae Edwards finished fifth in the 5000 with a PSAC qualifying and personal best time of 18:40.34.
Also qualifying for the PSAC championship were Brooke McDaniel in the 200 (6th, 26:00), Jenelle Toter in the 200 (26.55). Toter was also sixth in the 100 (13.08).
Erica Ferguson qualified for the PSAC in the long jump with a 17-06.75 effort.