RELEASE DATE: 02/07/09
FOR IMMEDIATE RELEASE: Mike Gray's second place shot put enhances his reputation in the Nation's eyes: Men and women place 12 individuals in top ten at Susquehanna Indoor Invitational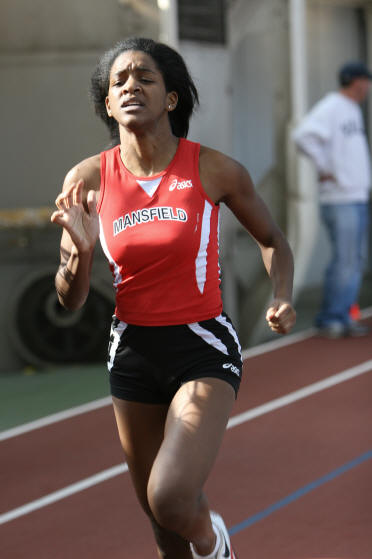 MANSFIELD – Mike Gray busted out a throw of 16.4 meters (53'-9.75") in the shot put to earn a second place finish at the Susquehanna University Indoor Invitational Saturday. Though he missed a first place by two centimeters, the through will move him up on the National list.
Gray also took fifth place in the weighted throw with a throw of 15.72 meters (51'-7").
Craig Barber pole vaulted his way to his first collegiate victory with a vault of 4.42 meters (14'-6").
Justen Johnson took third place in the triple jump with a leap of 13.59 meters (44'-7") and was followed up by Bryant Rager who took tenth with 12.40 meters (40'-8.25").
Josh Bucior took two sixth place finishes in the 55 meter dash (6.75) and the 200 meter dash (23.59) while Nate MacNabb also finished sixth in the 800 meter run (2:00.98).
Erica Ferguson and Jenelle Toter both qualified for the PSAC Championship Meet. Ferguson finished third in the long jump with a jump of 5.06 meters (16'-7.25") and Toter finished seventh in the 200 meter dash with a time of 27.67.
Following Toter were Brooke McDaniel in eighth (27.70) and Carly Klinger in tenth (27.86). McDaniel's top performance was in the 400 meter dash with a second place finish (1:00.88).
Sandra Anceravage and Annastacia Canfield tied for tenth place in the high jump both jumping 4'-9.75".
The women's 4X400 meter relay team of Abbie Waltz, Klinger, McDaniel and Ferguson took third place (4:11.38).
Mansfield's teams head to the CTC Indoor Championship meet in New Haven, CT on the 14-15.