RELEASE DATE: 3/01/09
FOR IMMEDIATE RELEASE: Mike Gray PSAC shot put champion – men finish ninth and women tie for 11th in team scoring at PSAC Indoor Track and Field Championship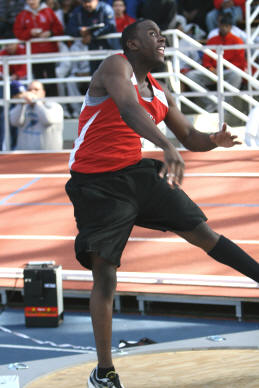 EAST STROUDSBURG – Junior Mike Gray won the PSAC men's shot put to highlight Mansfield's performance at the 2009 PSAC Indoor Track and Field championship which concluded at East Stroudsburg Sunday.
Gray's heave of 52-07.25 was more than 2 ½ feet of the next closest competitor. Gray, who finished third in the weight throw held on Saturday, was responsible for 14 of Mansfield 19 team points. Gray earned All-PSAC honors in each event.
The Mountaineers also got team points from Ryan Detwiller who finished seventh in the high jump (6-02.00) and freshman Nathan McNabb who was eighth in the mile run (4:24.09).
Mansfield finished ninth in the men's team standings. Shippensburg was the team champion with 134 points.
The Mountaineer women scored their only team points in the 4x400 relay with the team of Abbie Waltz, Carly Klinger, Erica Ferguson and Brooke McDaniel finishing seventh with a time of 4:06.71.
McDaniel just missed qualifying for the final in the 400 finishing ninth in the preliminaries with a time of 59.52. The top eight finishers advanced to the final.
Mansfield finished in a tie with California for 11th place in the women's team scoring. Slippery Rock won the championship with 146 points
Women - Team Rankings - 18 Events Scored
===============================================================================
1) Slippery Rock 146 2) Shippensburg 142
3) Lock Haven 101 4) Indiana (Pa.) 84
5) Kutztown 62 6) East Stroudsburg 41
7) Millersville 39 8) Clarion 36
9) West Chester 28 10) Edinboro 18
11) Mansfield 2 11) California (Pa.) 2
13) Bloomsburg 1
Men - Team Rankings - 18 Events Scored
===============================================================================
1) Shippensburg 134 2) Lock Haven 129
3) East Stroudsburg 120 4) Slippery Rock 91
5) Indiana (Pa.) 80 6) Kutztown 43
7) West Chester 32.50 8) Cheyney 22
9) Mansfield 19 10) Millersville 18.50
11) California (Pa.) 12 12) Bloomsburg 1