RELEASE DATE: 12/05/08
FOR IMMEDIATE RELEASE: Mike Gray breaks MU weight throw record at Golden Flash Gala – Joe Stanek and Erica Ferguson PSAC qualifiers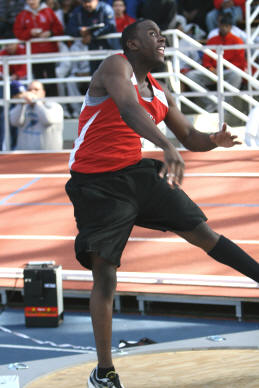 KENT,OH – Mike Gray broke the school record in the weight throw while Joe Stanek and Erica Ferguson each recorded qualifying marks for the PSAC Championship Friday at the Golden Flash Gala at Kent State.
Gray helped the Mountaineers open the indoor track and field season on a positive with a toss of 16.0 meters or 52-5 in feet in the weight throw surpassing Aaron Fiacconi's school record of 47-5 feet set in 2003.
Gray, who qualified for the PSAC Championship, also finished 11th in the shot put with a heave of 15.31 meters.
Stanek won his heat and finished 34th overall in the 5,000 meters with a time of 15:38.22 to qualify for the conference championship while Ferguson placed ninth out of 40 participants in the long jump with a leap of 5.53 meters.
The trio will be join by the rest of the indoor track and field team for a full day of events on Saturday.