Release Date: 01/10/09
FOR IMMEDIATE RELEASE: Men and women runners earn high places at Gulden Relays; Josh Bucior breaks school record in 60 meters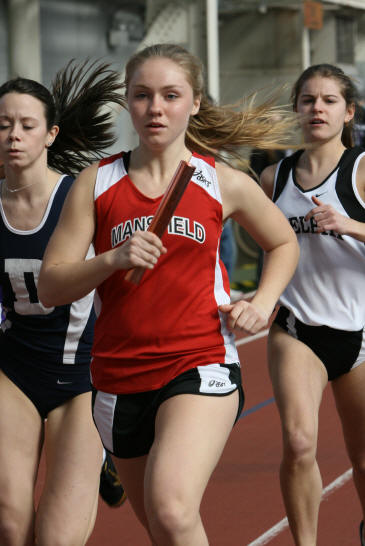 LEWISBURG – Junior Mike Gray won the shot put and freshman Josh Bucior set a school record in the 60-meters dash at the Gulden Relays at Bucknell University Saturday afternoon.
Gray, who broke his own school record in the shot with a toss of 52-9.25 Friday evening at Cornell, won the shot-put Saturday with a toss of 52'3.25.
Bucior finished sixth in the 60 meters with a time of 7.18 to break Ricky Jones mark of 7.22 set in 2007
On the women's side, the 4X800 meter relay and the 4X200 meter relay each took fourth place. The 4X800 team of Irene Primer, Brenae Edwards, Jessica Wagner and Sarah Vivona ran a 10:55.48 while the 4X200 team of Jenelle Toter, Carly Klinger, Brooke McDaniel and Erica Ferguson finished with a 1:51.65.
Other top finishers for the women's team were McDaniel in the 500 meter-run with a time of 1:22.03 to earn a fifth place finish and the 1600 meter sprint medley relay team of Abbie Waltz, Meagan Savioli, Brittany Capsello and Kelly Hollenbeck taking sixth with a time of 1:51.65.
The men place their 4X200 meter relay team of Josh Bucior, Justen Johnson, Buddy Winward and Gray in fourth place with a time of 1:38.61 while their 4X800 meter relay team of Mason Teribury, Nathan McNabb, Kevin Cusworth and Glendon Zimmerman finished seventh with a time of 8:45.71.
A top individual finisher for the men was McNabb in the 500 meter run with a time of 1:11.81 to finish ninth.
The Mansfield University indoor track teams travel to Penn State on January 17 for the Penn State Open.