RELEASE DATE: 4/08/09
FOR IMMEDIATE RELEASE: Mike Gray earns All-East honors with 8th place finish at IC4A Championships Boston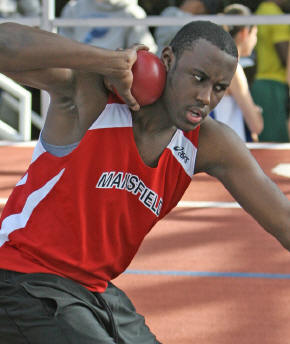 BOSTON – Mike Gray earned All-East honors for the second straight year with an 8th place finish in the shot put at the IC4A Championship in Boston on Sunday.
Gray, who missed a spot in the NCAA Division II National Indoor Championship despite winning the shot put at the PSAC Championship last weekend, threw the shot 16.39 meters (53-09.25 feet) to finish eighth overall at the I4A Championship at Boston University Sunday.
Twenty-eight thrower, all from NCAA Division I programs throughout the Northeast, competed in the event won by Nate Hunter of Northeastern with a toss of 61-01.25.
Gray's toss was just .01 off his school record mark of 16.40 set earlier this season. He earned All-East honors last year with a third place finish in the discus.
Mansfield was one of just two non-Division I programs to score team points at the championship.