RELEASE DATE: 2/21/09
FOR IMMEDIATE RELEASE: Henry Potter breaks 600 meter record at DeNault Invitational at Cornell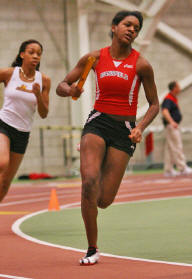 ITHACA,NY – Freshman Henry Potter broke the school record in the 600 and Josh Bucior, Ryan Detwiler and Erica Ferguson all qualified for the upcoming PSAC Championship at the DeNault Invitation at Cornell Saturday.
Potter posted a 1:24.47 time in the 600 while Bucior ran a 23.31 in the 200 the second fastest time in school history.
Detwiler qualified in the high jump with jump of 1.95 meters while Ferguson qualified in the women's 200 with a time of 26.98.
Freshman Nate McNabb was second overall in the 1000 meters.