RELEASE DATE: 2/14/09
FOR IMMEDIATE RELEASE: Mike Gray dual winner at CTC Championship – Mansfield men finish second in team championship and Mansfield women finish third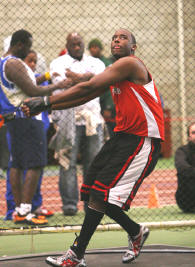 MIDDLETOWN, CT – Mike Gray won both the shot put and the weight throw to lead the Mansfield University men's indoor track and field team to a second place finish at the 15 team CTC Indoor Track and Field Championship at Wesleyan College Saturday.
The Mansfield men scored 78 points to Adelphi's 147 points.
Gray won the shot put with a heave of 52-02, more than six feet further than his nearest competitor and took the weight throw with a toss of 49-08, just under two feet longer than the second place finisher.
Also taking first for Mansfield was freshman Nathan McNabb in the mile with a winning time of 4:25.14. Craig Barber was third in the pole vault (14-00.00) and Justen Johnson was third in the long jump (21-09.00).
The Mansfield women finished third overall in team scoring with 78 points
Richard Stockton's won the team competition with 122 points while Rowan was second with 104 points.
Brenae Edwards took first in the 3000 meters with a time of 10:54.37, five seconds ahead of the second place finisher. Edwards was also second in the mile (5:26.81).
The 4 x 400 relay team of Abbie Waltz, Carley Klinger, Erica Ferguson and Brooke McDaniel finished first with a time of 4:07.94.
McDaniel was also second in the 400 meters (59.03) while Ferguson finished third in the long jump (15-11.50) and Caitlin Morgan third in the pole vault (9-08.00).