RELEASE DATE: 10/30/08
FOR IMMEDIATE RELEASE: Mounties have high hopes for upcoming PSAC Championships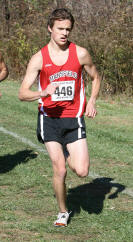 MANSFIELD – The Mansfield University Mountaineer men's and women's cross country teams have high hopes of record finishes at the PSAC Cross Country Championships this Saturday at Lock Haven.
"We are looking forward to a good championship this weekend," said head coach Mike Rohl. "Traditionally our teams have run very well at Lock haven and we are expecting similar results on Saturday."
The Mountaineer men are a young, but talented group with no upper classmen listed among the top seven runners. Sophomore Joe Stanek probably has the best chance to earn All-PSAC by finishing among the top 20 runners. Stanek has been the top runner for the Mountaineers all season.
Fellow sophomore Chris Bogenschutz and freshman Tyler Prokop had also been consistent all season with Bogenschutz also a potential candidate for All-Conference honors.
Freshman Nate MacNabb has overcome early season injuries to put in strong performances over his last couple of meets. Sophomore Sean Vollenweider and freshmen Kevin Cusworth and John McDonnell all have close times and strong showings on their part could put Mansfield among the top five finishers.
Senior Vic Garcia, sophomore Scott Wilt and freshman Brady Finogle will also run in the championship.
Senior Clarissa Correll and sophomore Brenae Edwards will both be looking to earn All-PSAC honors for the women.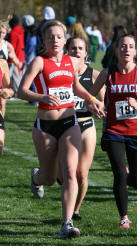 Correll had a strong showing in last year's post season competition and has been steady all year.
Edwards was slowed by injury after a terrific freshman season but is back into prime running shape this season. Correll and Edwards finished within a stride of each other at the CTC Championship for second and third place overall.
Freshman Sarah Lonzi has been impressive in her year of collegiate competition while junior Jess Wagner has been a steady performer. Freshman Christine Gillies has worked herself in the pack of the top five runners.
Freshman Kelly Hollenbeck and Brittney Capsello are the sixth and seventh runners.
Mansfield will run at Slippery Rock next Saturday in the NCAA East Regional.