RELEASE DATE: 11/01/08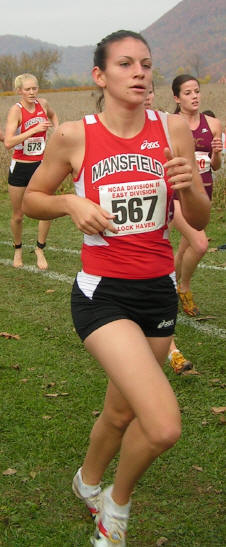 FOR IMMEDIATE RELEASE: Clarissa Correll finishes 15th overall at PSAC Championship to earn All-Conference honors
MANSFIELD – Senior Clarissa Correll (Mansfield/Mansfield) finished 15th overall at the PSAC Women's Cross Country Championship to earn All-Conference honors Saturday afternoon at Lock Haven.
Both the Mansfield men (267 points) and women's (273) teams finished 10th in the 15 team field. Edinboro won the men's team title with 42 points while Shippensburg captured the women's event with 44 points.
"Clarissa was just determined," said head coach Mike Rohl. "She ran a great race and wouldn't be denied earning All-Conference honors in her last conference meet."
Correll finished with a time of 22:06 over 6K course, just over a minute behind the first place runner Neely Spence of Shippensburg.
Sophomore Brenae Edwards (Hazelton/Hazelton) finished 37th overall (23:05) with freshman Sarah Lonzi (Bradford/Bradford) coming in 60th (23:55). Junior Jessica Wagner (Cochecton Center,NY/Sullivan West) was 71st (24:27) with freshman Christine Gillies (Milford/Delaware Valley) 90th (25:10), sophomore Kelly Hollenbeck (Churchville,NY/Verona) 98th (26:01) and freshman Brittney Capsello (North Syracuse,NY/North Cicero) 105th (28:47).
Sophomore Joe Stanek (Ashley/Hanover) , just missed earning All-Conference honors, was the Mountaineers top men's finisher with a 23rd place showing (25:51) with fellow sophomore Chris Bogenschutz (Eldred/Otto-Eldred) coming in 47th overall (26:31). Freshmen Nathan McNabb (Clay,NY/North Cicero) and Tyler Prokop (St. Mary's/Elk County Catholic) were 57th (26:46) and 60th (26:53) respectively.
Sophomore Sean Vollenweider (Canandaigua,NYCanandaigua) was 80th (28:10) with freshman Kevin Cusworth (Cicero,NY/Corth Cicero) finishing 81st (28:16). Sophomore Scott Wilt (Dover/Northeastern) was 84th (28:27).
Mansfield will run at the NCAA East Regional in Slippery Rock next Saturday