RELEASE DATE: 11/8/08
FOR IMMEDIATE RELEASE: Mountie men and women finish 10th at NCAA East Regional Championship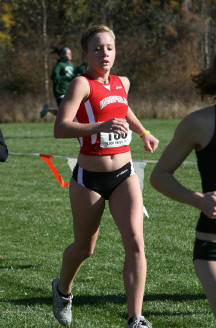 MANSFIELD – Sophomore Brenae Edwards (Hazleton/Hazleton) just missed earning All-Regional honors with a 17th overall finish at the NCAA Division II East Region Cross Country Championship Saturday at Slippery Rock.
The top 15 finisher's earn All-Region honors.
Both the Mountaineer women's and men's team's finished 10th overall in the 25 team competition.
"It was a good performance by both teams,' said head coach Mike Rohl. "Brenea and Joe ran very good races. Both teams are very young and the future is very bright."
The Edwards led women finished with 318 points. Shippensburg was the team champion with 62 points. Senior Clarissa Correll (Mansfield/Mansfield) finished second for Mansfield and 36th overall with a time of 23.35 over the 6k course.
Freshman Sarah Lonzi (Bradford/Bradford) was the third Mountaineer finisher (70th – 25.01) followed by junior Jess Wagner (Cochecton Center,NY/Sullivan West) (89th – 25.40). Freshman Christine Gillies (Milford/Delaware Valley). Freshmen Kelly Hollenbeck (Churchville,NY/Verona) and Brittney Capsello (North Syracuse/North Cicero) finished 119th (26.38) and 130th (27.24) respectively.
The men finished with 305 point. Lock Haven won the team title with 51 points.
Joe Stanek (Ashley/Hanover) finished 20th overall with a time of 33.18 over the 10k course. Freshman Nathan MacNabb (Clay,NY/North Cicero) was 56th overall at 34.39. Sophomore Chris Bogenschultz (Eldred/Otto-Eldred) was just steps behind in 60th place (34.47). Sophomore Sean Vollenweider (Canandaigua,NY/Canandaigua) was 77th (35.46) followed by freshman Kevin Cusworth (Cicero,NY/North Cicero). Freshman Scott Wilt (Dover/Northeastern) was 115th (37.54).