RELEASE DATE: 10/18/08
FOR IMMEDIATE RELEASE: Mansfield women second and men third at CTC Championship – Clarissa Correll second overall in women's competition and Joe Stanek second overall in men's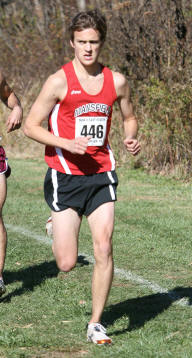 POMONA,NJ – Senior Clarissa Correll (Mansfield/Mansfield) finished second overall in the women's competition and sophomore Joe Stanek (Ashley/Hanover) second in the men's event at the CTC Cross Country Championship at Richard Stockton College Saturday.
Led by Correll, who finished the 2.76 mile course with a time of 16:33, and sophomore Brenae Edwards (Hazleton/Hazleton), who finished a step behind Correll for third overall, Rowan won the women's team title with 45 points with Stevens Institute finishing second with 76 points and Mansfield a one back in third.
Freshman Sarah Lonzi (Bradford/Bradford) placed 19th overall at 17:47 followed by junior Jessica Wagner (Cochecton Center,NY/Sullivan West) (30th – 18:05) and Christine Gillies (Milford/Delaware Valley) (31st – 18:06).
The men earned their first-ever trophy with a second-place finish behind Stanek (19:41) and sophomore Chris Bogenschutz (Eldred/Otto-Eldred) who finished 8th overall (19:41). The Mountaineer men finished second in team scoring in the 14 team event. Rowan won the team championship with 36 points followed by Mansfield (64) and DeSales (66).
Freshman Nathan MacNabb (Clay,NY/North Cicero) was 10th overall (20:11) with fellow freshman Tyler Prokop (St. Mary's/Elk County Catholic) placing 23rd (20:31) and sophomore Sean Vollenweider (Canandaigua,NY/Canandaigua Academy) coming in 28th (20:40).
Mansfield will compete in the PSAC Championship's in two weeks.