RELEASE DATE: 8/22/08
FOR IMMEDIATE RELEASE: Cross Country Teams Break Camp – Men Ranked 7th in PSAC and Women's 11th in Preseason Poll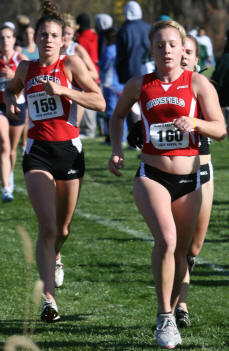 MANSFIELD – The Mansfield University men's and women's cross country teams broke preseason camp and returned to campus Friday morning.
The final week of preseason camp was held at nearby Hills Creek State Park with both teams camping out and training on trails throughout the state park.
"It was a good camp," said head coach Mike Rohl. "We have a great group of good kids who got to bond together as teammates as well as make a lot of personal progress for the upcoming season."
The Pennsylvania State Athletic Conference (PSAC) also released it Coaches Preseason Poll on Friday. Unlike many other PSAC sports, there is no divisional breakdown for cross country. There are 16 women's teams and 15 men's team.
The Mountaineer men are ranked 7th in the PSAC poll despite losing the top three runners to graduation. Mansfield finished seventh at last year's PSAC Championship but were an even more impressive fifth in the NCAA East Regional. Sophomores Joe Stanek and Sean Vollenweider looked solid in preseason camp. Junior John Mark Stoltz is the only returning upperclassmen on the 16 runner roster.
The women's team, anchored by seniors Clarissa Correll and Tricia Learn along with sophomore Brenae Edwards, finished 12th at both the PSAC and NCAA Regional Championships in 2007.
Mansfield will open the 2008 season on Sept. 6 at the Seagull Invitational in Salisbury, MD.
PSAC Coaches Preseason Cross Country Poll
Men
1. Edinboro (11)
2. Slippery Rock (4)
3. Lock Haven
4. Shippensburg
5. Bloomsburg
6. California (Pa.)
7. Mansfield
8. East Stroudsburg
9. Millersville
10. Kutztown
11. West Chester
12. Indiana (Pa.)
13. Mercyhurst
14. Gannon
15. Cheyney
Women
1. Bloomsburg (9)
2. Shippensburg (6)
3. Edinboro (1)
4. Slippery Rock
5. Kutztown
6. Millersville
7. Indiana (Pa.)
8. Clarion
9. Lock Haven
10. East Stroudsburg
11. Mansfield
12. California (Pa.)
13. West Chester
14. Mercyhurst
15. Gannon
16. Cheyney