RELEASE DATE: 9/06/08
FOR IMMEDIATE RELEASE: Stanek and Edwards outlast Hanna to win Sea Gull Invitational in cross country season opener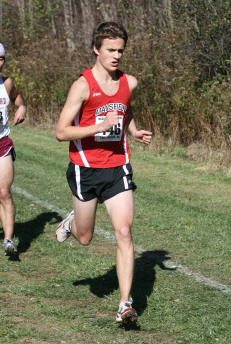 SALISBURY, MD -- Joe Stanek and Brenae Edwards each took first place honors at the Sea Gull Invitational in Salisbury, Maryland under tropic storm conditions Saturday afternoon in Salisbury, MD.
It was the opening meet of the season for the Mountaineers who braved the winds and rains of Tropical Storm Hanna.
Stanek ran the 8000-meter menís course winning it by just one second over Salisbury State Universityís Sam Boimov with a time of 26:58.
Sean Vollenweider (27:47) and Tyler Prokop (28:23) were the next runners for the Mountaineers to cross the finish line back to back taking seventh and eight places respectively.
Other top finishers for the menís team were Chris Bogenschultz (29:20) who took 13th, John-Mark Stoltz (29:20) taking 14th, Kevin Cusworth (29:29) finishing 16th, and Nathan MacNabb (30:06) taking 19th.
Also finishing along side of the rest of the menís top runners were Aaron Reardon (30:18), Brady Finogle (30:18), John McDonnell (30:44), Scott Wilt (31:04), and Glendon Zimmerman (31:23) all running next to each other to finish in places 20th to 24th.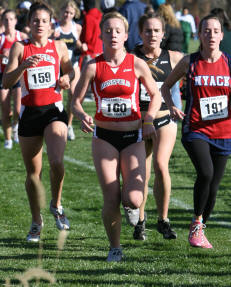 Edwards won the womenís race in convincing fashion finishing the 5920 meter course 43 seconds faster than second-place finisher Marsha Berge of Salisbury.
Irene Primmer (24:11) and Clarissa Correll (24:29) placed sixth and seventh only 18 seconds apart from each other.
Other top runners for the Mountaineers included Jessica Wagner (24:46) in ninth, Christine Gillies (24:51) in 11th, Sarah Lonzi (25:08) in 13th, and Tricia Learn (25:25) in 16th. Also finishing along with the top runners was Christyna Cain (26:24) in 18th.
The next cross country meet for both Mountaineer teams will be September 19 at Oneonta, NY for the Oneonta Air Field Invitational.