RELEASE DATE: 9/19/08
FOR IMMEDIATE RELEASE: Women take third while men take fifth overall at the Oneonta State Airfield Invitational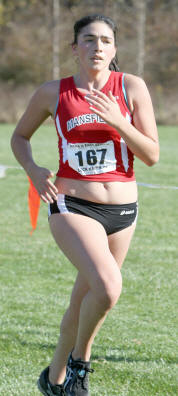 ONEONTA – Brenae Edwards led the Mountaineer women on Friday to win over six other teams as they took third place. Edwards placed in sixth place with a time of 17:31 and was closely followed by Clarissa Correll as she finished in seventh place with a time of 17:36.
Other place winners for Mansfield were Irene Primmer taking 10th place in 17:48, Jessica Wagner in 22nd place with a time of 18:10 and Sarah Lonzi placing 23rd at 18:12.
With the nine women's teams there running on the 4500 meter course, there was a total of 96 women running. Other than Mansfield's top five runners, Christine Gilles ran if 25th place, Christyna Cain took 42nd, Kelly Hollenbeck took 44th, Brittney Capsello took 57th, Tricia Rumsey finished 75th and Sara Vivona finished 82nd all within three minutes of each other.
"Both races were close," head coach Mike Rohl said. "I couldn't be happier with how everyone ran today."
The women's team missed out of first place as Hamilton College won with 56 points and SUNY Plattsburgh finished second with 63 points. Mansfield had 68 points while the next place team, SUNY Cortland had 80 points.
Joe Stanek led the men's team with a 13th place finish in 19:34 as the men took fifth place overall.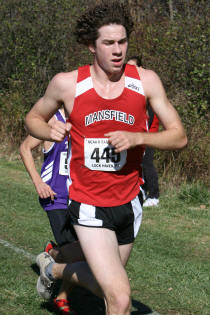 Tyler Prokop took 18th place with a time of 19:57. Chris Bogenschutz finished right behind Prokop in 19th place at 19:58.
Other place winners for Mansfield were John-Mark Stoltz in 27th place with a time of 20:36 and Sean Vollenweider at 31st place with a time of 20:36.
The men's 6000 meter course was also filled with 120 runners from nine different schools.
Mansfield's other runners for the invitational were Kevin Cusworth in 37th, John McDonnell in 74th, Scott Wilt in 83rd, Aaron Reardon in 86th, Glendon Zimmerman in 91st, Victor Garcia in 93rd and Mason Teribury in 108th.
The men's and women's runners will travel on October 3 to Lehigh University for the Paul Short Invite.