RELEASE DATE: 5/24//08
FOR IMMEDIATE RELEASE: Cummings and Gray Earn All-America Honors
WALNUT CREEK, Calif. – For the second time in Mansfield University history, two Mountaineer track and field athletes have earned All-America honors at the same NCAA Championship event. Senior Chris Cummings and sophomore Mike Gray each took home All-America honors at the 2008 NCAA Division II Track and Field Championships on Saturday night in Walnut Creek, California.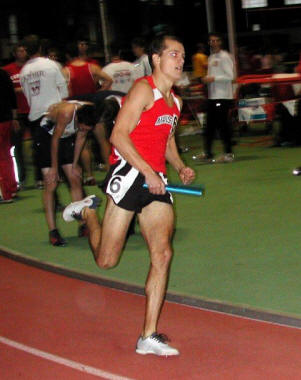 Gray began the day with a sixth-place finish in the discus, garnering his first All-America honor in just his first appearance in the NCAA meet. The sophomore standout landed a throw of 52.81m (173-03).
"It feels good," said Gray after the event. "I threw my first one and I thought that would get me to finals. I was seeded eighth coming in and I was real nervous. It just happenned for me today.
Cummings, no stranger to the NCAA meet, followed that with a fifth-place showing in the 1,500-meter finals in a time of 3:51.25.
Cummings closes his career as one of the most storied athletes in any sport in Mansfield history. The graduate student from Mansfield will leave as the only five-time All-American in school history after earning the honor twice indoors, twice outdoors and once in cross country. Cummings was an All-American in all three seasons this year.
Saturday's performances marked just the second time that two Mansfield athletes earned All-America honors in the same meet with Cummings being a part of each. In 2006 Cummings earned the honor in the 1,500-meter run while Jeremy Confer picked up his first All-America award in the javelin.
"I'm incredibly proud of both of these guys," said head coach Mike Rohl. "For Mike, this is a great way to start his career as just a sophomore and what a way for Chris to end a career."
This weekend's NCAA Championships marked the fifth-straight year that Mansfield athletes have qualified for the meet under Rohl.
"The program is really on the way up," adds the ecstatic coach. "We have come such a long way in a short time and these two guys are really a solid representation of our growth as a program. I'm really thankful that I get to coach athletes like this at a place like Mansfield."
Complete results from the NCAA Division II National Championships can be found here.