RELEASE DATE: 6/30/08
FOR IMMEDIATE RELEASE: Mansfield's Chris Cummings awarded NCAA Postgraduate Scholarship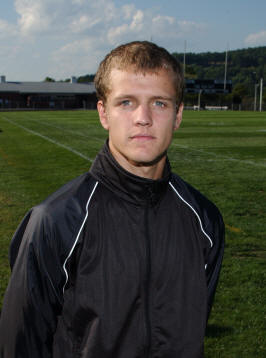 MANSFIELD – Mansfield University standout Chris Cummings has become just the second Mountaineer student-athlete to be awarded an NCAA Postgraduate Scholarship.
To qualify for an NCAA postgraduate scholarship, a student-athlete must have an overall grade-point average of 3.200 (on a 4.000 scale) or its equivalent, and must have performed with distinction as a member of the varsity team in the sport in which the student-athlete was nominated. The student-athlete must have behaved, both on and off the field, in a manner that has brought credit to the student-athlete, the institution and intercollegiate athletics. The student-athlete also must intend to continue academic work beyond the baccalaureate degree as a full-time or part-time graduate student.
Cummings, nominated by Dr. Robert Maris, was one of just 59 postgraduate scholarship awarded in all three NCAA Divisions for the spring semester.
Cummings, who graduated with a degree in physics last year, maintained a perfect 4.0 average as a graduate education student this year.
In addition, Cummings was the only PSAC Male Athlete to earn PSAC Top Ten Scholar-Athlete recognition in three sports this year and was also the only PSAC athlete to earn All-American honors in three different sports (cross-country, indoor track, outdoor track).
He becomes just the second student-athlete at Mansfield University to receive the NCAA prestigious scholarship which will provide $7,500 for his final year of graduate school.
Martha Lasley, a then 33-year old mother of three who swam for the Mountaineer women's swim team in 1988 while maintaining a perfect 4.0 is the other recipient.
Cummings is the only male student-athlete in the 17 member Pennsylvania State Athletic Conference (PSAC) to be awarded a NCAA postgraduate scholarship.