Release Date: 5/2/08
For Immediate Release: Mike Gray wins discus at PSAC Championships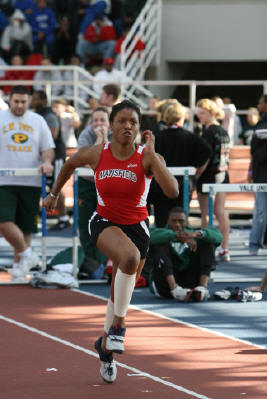 IUP- Sophomore Mike Gray won the discus with a throw of 50.41 meters today at the PSAC championships at IUP.
Continuing the success for the track team, Katrina Brumfield finished in fifth place in the high jump with a jump of 1.60 and Katie Foster finished in 10th with a jump of 1.60. Brumfield reached the 100 meter dash finals with a time of 12.63.
Erica Ferguson took fifth place in the long jump with a leap of 5.16.
Victor Garcia and Dave Sanford advanced to the finals in the 800. Garcia clocked in at 1:53.59 while Sanford ran a 1:55.19.
The women's 4x1 relay team of Jenelle Toter, Ryan Kelly, Brumfield and Ferguson advanced to the finals with a time of 49.72.
"This is as good as a first day that we've ever had, I like the way were competing and were doing well." head coach Mike Rohl said.
Results from Day 1
Event 1  Women Heptathlon
================================================================
    Name                    Year School                  Finals 
================================================================
Finals
  1 Carito, Trina             SO East Stroudsburg          4661  
  2 Kress, Diane              JR Clarion                   4299  
  3 Wentz, Melinda            SO West Chester              4191  
  4 Grussenmeyer, Kristina    JR Shippensburg              4137  
  5 Colburn, Katie            FR Kutztown                  4086  
  6 Reinmiller, Amanda        SR Lock Haven                3941  
  7 Argenta, Ashley           SR Edinboro                  3774  
  8 Kerchak, Rebecca          JR Kutztown                  3718  
  9 Helfrick, Ashleigh        JR Shippensburg              3716  
 10 Tepsic, Liz               FR Indiana (Pa.)             3654  
 11 Gunn, Larissa             SO Lock Haven                3501  
Event 1  Heptathlon: #1 Women 100 Meter Hurdles Heptathlon
===============================================================================
    Name                    Year School                  Finals  Wind H# Points
===============================================================================
  1 Carito, Trina             SO East Stroudsburg         15.90  -1.2  1  727  
  2 Grussenmeyer, Kristina    JR Shippensburg             15.97  -1.2  1  718  
  3 Wentz, Melinda            SO West Chester             16.09  -0.8  3  703  
  4 Colburn, Katie            FR Kutztown                 16.28  -1.2  1  680  
  5 Reinmiller, Amanda        SR Lock Haven               16.39  -0.8  3  667  
  6 Kress, Diane              JR Clarion                  16.45  -0.8  2  660  
  7 Kerchak, Rebecca          JR Kutztown                 16.58  -0.8  3  645  
  8 Argenta, Ashley           SR Edinboro                 17.46  -0.8  2  546  
  9 Helfrick, Ashleigh        JR Shippensburg             17.46  -0.8  3  546  
 10 Tepsic, Liz               FR Indiana (Pa.)            17.53  -0.8  2  538  
 11 Gunn, Larissa             SO Lock Haven               17.58  -0.8  2  533  
Event 1  Heptathlon: #2 Women High Jump Heptathlon
=================================================================================
    Name                    Year School                  Finals            Points
=================================================================================
  1 Carito, Trina             SO East Stroudsburg         1.69m    5-06.50  842  
  2 Kress, Diane              JR Clarion                  1.60m    5-03.00  736  
  3 Reinmiller, Amanda        SR Lock Haven               1.54m    5-00.50  666  
  4 Grussenmeyer, Kristina    JR Shippensburg             1.51m    4-11.50  632  
  4 Helfrick, Ashleigh        JR Shippensburg             1.51m    4-11.50  632  
  6 Colburn, Katie            FR Kutztown                 1.48m    4-10.25  599  
  6 Wentz, Melinda            SO West Chester             1.48m    4-10.25  599  
  6 Kerchak, Rebecca          JR Kutztown                 1.48m    4-10.25  599  
  6 Tepsic, Liz               FR Indiana (Pa.)            1.48m    4-10.25  599  
 10 Gunn, Larissa             SO Lock Haven               1.42m    4-07.75  534  
 11 Argenta, Ashley           SR Edinboro                 1.36m    4-05.50  470  
Event 1  Heptathlon: #3 Women Shot Put Heptathlon
=================================================================================
    Name                    Year School                  Finals            Points
=================================================================================
  1 Carito, Trina             SO East Stroudsburg         9.70m   31-10.00  510  
  2 Kress, Diane              JR Clarion                  9.53m   31-03.25  499  
  3 Tepsic, Liz               FR Indiana (Pa.)            9.50m   31-02.00  497  
  4 Argenta, Ashley           SR Edinboro                 9.34m   30-07.75  486  
  5 Helfrick, Ashleigh        JR Shippensburg             9.24m   30-03.75  480  
  6 Gunn, Larissa             SO Lock Haven               9.23m   30-03.50  479  
  7 Wentz, Melinda            SO West Chester             9.09m   29-10.00  470  
  8 Colburn, Katie            FR Kutztown                 9.03m   29-07.50  466  
  9 Kerchak, Rebecca          JR Kutztown                 8.88m   29-01.75  456  
 10 Reinmiller, Amanda        SR Lock Haven               8.46m   27-09.25  429  
 11 Grussenmeyer, Kristina    JR Shippensburg             7.72m   25-04.00  381  
Event 1  Heptathlon: #4 Women 200 Meter Dash Heptathlon
===============================================================================
    Name                    Year School                  Finals  Wind H# Points
===============================================================================
  1 Wentz, Melinda            SO West Chester             26.39  -1.2  2  763  
  2 Grussenmeyer, Kristina    JR Shippensburg             27.11   1.8  1  703  
  3 Colburn, Katie            FR Kutztown                 27.27  -1.2  2  690  
  4 Carito, Trina             SO East Stroudsburg         27.35   1.8  1  683  
  5 Kress, Diane              JR Clarion                  27.63   1.8  1  660  
  6 Tepsic, Liz               FR Indiana (Pa.)            27.69  -1.2  2  655  
  7 Kerchak, Rebecca          JR Kutztown                 28.09  -1.2  2  624  
  8 Reinmiller, Amanda        SR Lock Haven               28.43   1.8  1  597  
  9 Argenta, Ashley           SR Edinboro                 28.43  -1.2  2  597  
 10 Helfrick, Ashleigh        JR Shippensburg             28.90   1.8  1  562  
 11 Gunn, Larissa             SO Lock Haven               29.09  -1.2  2  548  
Event 1  Heptathlon: #5 Women Long Jump Heptathlon
======================================================================================
    Name                    Year School                  Finals  Wind           Points
======================================================================================
  1 Kress, Diane              JR Clarion                  5.20m  +0.0  17-00.75  614  
  2 Carito, Trina             SO East Stroudsburg         5.14m  +0.0  16-10.50  598  
  3 Grussenmeyer, Kristina    JR Shippensburg             4.89m   0.9  16-00.50  530  
  4 Colburn, Katie            FR Kutztown                 4.75m  +0.0  15-07.00  492  
  5 Reinmiller, Amanda        SR Lock Haven               4.71m  +0.0  15-05.50  482  
  6 Helfrick, Ashleigh        JR Shippensburg             4.64m  +0.0  15-02.75  464  
  7 Wentz, Melinda            SO West Chester             4.63m   NWI  15-02.25  461  
  8 Tepsic, Liz               FR Indiana (Pa.)            4.57m  -0.4  15-00.00  446  
  9 Argenta, Ashley           SR Edinboro                 4.52m  +0.0  14-10.00  433  
 10 Kerchak, Rebecca          JR Kutztown                 4.48m  +0.0  14-08.50  423  
 11 Gunn, Larissa             SO Lock Haven               4.45m  +0.0  14-07.25  416  
Event 1  Heptathlon: #6 Women Javelin Throw Heptathlon
=================================================================================
    Name                    Year School                  Finals            Points
=================================================================================
  1 Argenta, Ashley           SR Edinboro                36.67m     120-04  604  
  2 Grussenmeyer, Kristina    JR Shippensburg            32.46m     106-06  523  
  3 Carito, Trina             SO East Stroudsburg        32.28m     105-11  520  
  4 Helfrick, Ashleigh        JR Shippensburg            29.74m      97-07  472  
  5 Kress, Diane              JR Clarion                 28.46m      93-04  447  
  6 Gunn, Larissa             SO Lock Haven              26.90m      88-03  418  
  7 Reinmiller, Amanda        SR Lock Haven              26.22m      86-00  405  
  8 Wentz, Melinda            SO West Chester            25.61m      84-00  394  
  9 Colburn, Katie            FR Kutztown                25.29m      83-00  388  
 10 Tepsic, Liz               FR Indiana (Pa.)           25.17m      82-07  385  
 11 Kerchak, Rebecca          JR Kutztown                23.50m      77-01  354  
Event 1  Heptathlon: #7 Women 800 Meter Run Heptathlon
=======================================================================
    Name                    Year School                  Finals  Points
=======================================================================
  1 Wentz, Melinda            SO West Chester           2:21.70   801  
  2 Carito, Trina             SO East Stroudsburg       2:23.17   781  
  3 Colburn, Katie            FR Kutztown               2:23.90   771  
  4 Reinmiller, Amanda        SR Lock Haven             2:29.84   695  
  5 Kress, Diane              JR Clarion                2:30.83   683  
  6 Grussenmeyer, Kristina    JR Shippensburg           2:33.45   650  
  7 Argenta, Ashley           SR Edinboro               2:34.50   638  
  8 Kerchak, Rebecca          JR Kutztown               2:36.20   617  
  9 Gunn, Larissa             SO Lock Haven             2:40.02   573  
 10 Helfrick, Ashleigh        JR Shippensburg           2:41.10   560  
 11 Tepsic, Liz               FR Indiana (Pa.)          2:43.41   534  
Event 2  Men Decathlon
================================================================
    Name                    Year School                  Finals 
================================================================
  1 Litten, Troy              SR Indiana (Pa.)             6506  
  2 Rose, Mike                JR Slippery Rock             6290  
  3 Graybill, Don             SO Shippensburg              6181  
  4 Wert, Brady               SO Slippery Rock             5988  
  5 Clark, Ian                SR Kutztown                  5982  
  6 Samborski, Adam           SO West Chester              5902  
  7 Stewart, Chris            SO Indiana (Pa.)             5773  
  8 Phillips, Mike            FR Lock Haven                5675  
  9 Schatz, Isaac             FR Kutztown                  5654  
 10 Thomas, Brendon           SO Millersville              5618  
 11 Neiderer, Lucas           SO Millersville              5549  
 12 Rogers, Matt              JR Millersville              5465  
 13 Feeney, Colin             SO East Stroudsburg          5418  
 14 LaBelle, Phillip          FR Lock Haven                5331  
Event 2  Decathlon: #1 Men 100 Meter Dash Decathlon
===============================================================================
    Name                    Year School                  Finals  Wind H# Points
===============================================================================
  1 Samborski, Adam           SO West Chester             11.42   0.1  1  769  
  2 Stewart, Chris            SO Indiana (Pa.)            11.60   0.1  1  732  
  3 Litten, Troy              SR Indiana (Pa.)            11.60  -0.3  2  732  
  4 Thomas, Brendon           SO Millersville             11.61  -0.3  2  730  
  5 Schatz, Isaac             FR Kutztown                 11.83   0.1  1  685  
  6 Rose, Mike                JR Slippery Rock            11.88  -0.3  2  675  
  7 Wert, Brady               SO Slippery Rock            11.92  -0.3  2  667  
  8 Phillips, Mike            FR Lock Haven               11.96  -0.3  2  659  
  9 Clark, Ian                SR Kutztown                 12.11  -0.3  2  629  
 10 LaBelle, Phillip          FR Lock Haven               12.13   0.1  1  626  
 11 Feeney, Colin             SO East Stroudsburg         12.18   0.1  1  616  
 12 Graybill, Don             SO Shippensburg             12.18  -0.3  2  616  
 13 Rogers, Matt              JR Millersville             12.28   0.1  1  597  
 14 Neiderer, Lucas           SO Millersville             12.28   0.1  1  597  
Event 2  Decathlon: #2 Men Long Jump Decathlon
======================================================================================
    Name                    Year School                  Finals  Wind           Points
======================================================================================
  1 Samborski, Adam           SO West Chester             6.86m   1.5  22-06.25  781  
  2 Litten, Troy              SR Indiana (Pa.)            6.60m   1.4  21-08.00  720  
  3 Thomas, Brendon           SO Millersville             6.38m   0.6  20-11.25  670  
  4 Schatz, Isaac             FR Kutztown                 6.20m   1.9  20-04.25  630  
  5 Stewart, Chris            SO Indiana (Pa.)            6.18m   1.4  20-03.50  626  
  6 Clark, Ian                SR Kutztown                 6.16m   1.5  20-02.50  621  
  7 Phillips, Mike            FR Lock Haven               6.15m   1.2  20-02.25  619  
  7 Graybill, Don             SO Shippensburg             6.15m   1.5  20-02.25  619  
  9 Wert, Brady               SO Slippery Rock            6.07m   1.6  19-11.00  602  
 10 Feeney, Colin             SO East Stroudsburg         5.92m   1.6  19-05.25  569  
 11 Rose, Mike                JR Slippery Rock            5.87m   NWI  19-03.25  559  
 12 LaBelle, Phillip          FR Lock Haven               5.64m   0.5  18-06.00  510  
 13 Neiderer, Lucas           SO Millersville             5.58m   2.4  18-03.75  498  
 14 Rogers, Matt              JR Millersville             5.38m   NWI  17-08.00  457  
Event 2  Decathlon: #3 Men Shot Put Decathlon
=================================================================================
    Name                    Year School                  Finals            Points
=================================================================================
  1 Rose, Mike                JR Slippery Rock           12.04m   39-06.00  609  
  2 Stewart, Chris            SO Indiana (Pa.)           11.74m   38-06.25  591  
  3 Clark, Ian                SR Kutztown                10.71m   35-01.75  528  
  4 Rogers, Matt              JR Millersville            10.64m   34-11.00  524  
  5 Wert, Brady               SO Slippery Rock           10.56m   34-07.75  519  
  6 Phillips, Mike            FR Lock Haven              10.48m   34-04.75  515  
  7 Graybill, Don             SO Shippensburg             9.96m   32-08.25  483  
  8 Feeney, Colin             SO East Stroudsburg         9.73m   31-11.25  469  
  9 Thomas, Brendon           SO Millersville             9.67m   31-08.75  466  
 10 LaBelle, Phillip          FR Lock Haven               9.62m   31-06.75  463  
 11 Schatz, Isaac             FR Kutztown                 9.56m   31-04.50  459  
 12 Litten, Troy              SR Indiana (Pa.)            9.49m   31-01.75  455  
 13 Samborski, Adam           SO West Chester             8.68m   28-05.75  407  
 14 Neiderer, Lucas           SO Millersville             8.46m   27-09.25  394  
Event 2  Decathlon: #4 Men High Jump Decathlon
=================================================================================
    Name                    Year School                  Finals            Points
=================================================================================
  1 Graybill, Don             SO Shippensburg             1.91m    6-03.25  723  
  1 Clark, Ian                SR Kutztown                 1.91m    6-03.25  723  
  3 Neiderer, Lucas           SO Millersville             1.88m    6-02.00  696  
  3 Wert, Brady               SO Slippery Rock            1.88m    6-02.00  696  
  3 Litten, Troy              SR Indiana (Pa.)            1.88m    6-02.00  696  
  6 Samborski, Adam           SO West Chester             1.82m    5-11.50  644  
  7 Rose, Mike                JR Slippery Rock            1.79m    5-10.50  619  
  8 Schatz, Isaac             FR Kutztown                 1.76m    5-09.25  593  
  9 Feeney, Colin             SO East Stroudsburg         1.73m    5-08.00  569  
  9 LaBelle, Phillip          FR Lock Haven               1.73m    5-08.00  569  
 11 Phillips, Mike            FR Lock Haven               1.67m    5-05.75  520  
 11 Thomas, Brendon           SO Millersville             1.67m    5-05.75  520  
 13 Stewart, Chris            SO Indiana (Pa.)            1.64m    5-04.50  496  
 13 Rogers, Matt              JR Millersville             1.64m    5-04.50  496  
Event 2  Decathlon: #5 Men 400 Meter Dash Decathlon
==========================================================================
    Name                    Year School                  Finals  H# Points
==========================================================================
  1 Samborski, Adam           SO West Chester             50.95   1  771  
  2 Wert, Brady               SO Slippery Rock            51.75   1  736  
  3 Neiderer, Lucas           SO Millersville             52.03   2  723  
  4 LaBelle, Phillip          FR Lock Haven               52.19   2  716  
  5 Schatz, Isaac             FR Kutztown                 52.22   1  715  
  6 Litten, Troy              SR Indiana (Pa.)            52.37   1  709  
  7 Phillips, Mike            FR Lock Haven               52.70   1  694  
  8 Thomas, Brendon           SO Millersville             52.85   2  688  
  9 Graybill, Don             SO Shippensburg             53.02   1  681  
 10 Rose, Mike                JR Slippery Rock            53.31   2  668  
 11 Clark, Ian                SR Kutztown                 53.63   2  655  
 12 Stewart, Chris            SO Indiana (Pa.)            53.76   1  650  
 13 Rogers, Matt              JR Millersville             54.32   2  626  
 14 Feeney, Colin             SO East Stroudsburg         55.21   2  590  
Event 2  Decathlon: #6 Men 110 Meter Hurdles Decathlon
===============================================================================
    Name                    Year School                  Finals  Wind H# Points
===============================================================================
  1 Schatz, Isaac             FR Kutztown                 16.00  -0.2  2  733  
  2 Samborski, Adam           SO West Chester             16.04  -0.2  2  728  
  3 Wert, Brady               SO Slippery Rock            16.13  +0.0  4  718  
  4 Rose, Mike                JR Slippery Rock            16.57  -0.1  3  670  
  5 Phillips, Mike            FR Lock Haven               16.79  +0.0  4  646  
  6 Graybill, Don             SO Shippensburg             16.96  -0.1  3  628  
  7 Thomas, Brendon           SO Millersville             17.26  -0.3  1  597  
  8 Stewart, Chris            SO Indiana (Pa.)            17.33  -0.3  1  590  
  9 Litten, Troy              SR Indiana (Pa.)            17.56  +0.0  4  567  
 10 Feeney, Colin             SO East Stroudsburg         17.67  +0.0  4  556  
 11 Clark, Ian                SR Kutztown                 17.90  -0.1  3  534  
 12 Neiderer, Lucas           SO Millersville             17.99  -0.3  1  525  
 13 Rogers, Matt              JR Millersville             18.21  -0.2  2  504  
 14 LaBelle, Phillip          FR Lock Haven               18.74  -0.1  3  455  
Event 2  Decathlon: #7 Men Discus Throw Decathlon
=================================================================================
    Name                    Year School                  Finals            Points
=================================================================================
  1 Litten, Troy              SR Indiana (Pa.)           36.43m     119-06  592  
  2 Clark, Ian                SR Kutztown                33.63m     110-04  536  
  3 Rose, Mike                JR Slippery Rock           33.41m     109-07  532  
  4 Rogers, Matt              JR Millersville            33.23m     109-00  528  
  5 Stewart, Chris            SO Indiana (Pa.)           31.63m     103-09  497  
  6 Phillips, Mike            FR Lock Haven              29.88m      98-00  462  
  7 Graybill, Don             SO Shippensburg            28.70m      94-02  439  
  8 Schatz, Isaac             FR Kutztown                28.45m      93-04  434  
  9 Thomas, Brendon           SO Millersville            28.23m      92-07  430  
 10 Samborski, Adam           SO West Chester            27.81m      91-03  422  
 11 Neiderer, Lucas           SO Millersville            27.74m      91-00  420  
 12 LaBelle, Phillip          FR Lock Haven              27.47m      90-01  415  
 13 Wert, Brady               SO Slippery Rock           24.94m      81-10  366  
 14 Feeney, Colin             SO East Stroudsburg        23.30m      76-05  334  
Event 2  Decathlon: #8 Men Pole Vault Decathlon
=================================================================================
    Name                    Year School                  Finals            Points
=================================================================================
  1 Litten, Troy              SR Indiana (Pa.)            4.90m   16-00.75  880  
  2 Graybill, Don             SO Shippensburg             4.60m   15-01.00  790  
  3 Rose, Mike                JR Slippery Rock            4.50m   14-09.00  760  
  4 Feeney, Colin             SO East Stroudsburg         4.40m   14-05.25  731  
  5 Rogers, Matt              JR Millersville             4.10m   13-05.25  645  
  6 LaBelle, Phillip          FR Lock Haven               3.90m   12-09.50  590  
  6 Stewart, Chris            SO Indiana (Pa.)            3.90m   12-09.50  590  
  8 Clark, Ian                SR Kutztown                 3.80m   12-05.50  562  
  9 Thomas, Brendon           SO Millersville             3.70m   12-01.50  535  
 10 Phillips, Mike            FR Lock Haven               3.60m   11-09.75  509  
 10 Wert, Brady               SO Slippery Rock            3.60m   11-09.75  509  
 12 Neiderer, Lucas           SO Millersville             3.50m   11-05.75  482  
 12 Samborski, Adam           SO West Chester             3.50m   11-05.75  482  
 14 Schatz, Isaac             FR Kutztown                 3.20m   10-06.00  406  
Event 2  Decathlon: #9 Men Javelin Throw Decathlon
=================================================================================
    Name                    Year School                  Finals            Points
=================================================================================
  1 Litten, Troy              SR Indiana (Pa.)           53.72m     176-03  644  
  2 Rose, Mike                JR Slippery Rock           48.73m     159-10  570  
  3 Graybill, Don             SO Shippensburg            45.16m     148-02  517  
  4 Wert, Brady               SO Slippery Rock           44.87m     147-02  513  
  5 Clark, Ian                SR Kutztown                44.74m     146-09  511  
  6 Rogers, Matt              JR Millersville            44.56m     146-02  509  
  7 Stewart, Chris            SO Indiana (Pa.)           43.47m     142-07  493  
  8 Feeney, Colin             SO East Stroudsburg        41.38m     135-09  462  
  9 LaBelle, Phillip          FR Lock Haven              40.80m     133-10  454  
 10 Phillips, Mike            FR Lock Haven              40.51m     132-11  450  
 11 Neiderer, Lucas           SO Millersville            40.26m     132-01  446  
 12 Samborski, Adam           SO West Chester            40.24m     132-00  446  
 13 Schatz, Isaac             FR Kutztown                34.82m     114-03  368  
 14 Thomas, Brendon           SO Millersville            33.78m     110-10  353  
Event 2  Decathlon: #10 Men 1500 Meter Run Decathlon
=======================================================================
    Name                    Year School                  Finals  Points
=======================================================================
  1 Neiderer, Lucas           SO Millersville           4:26.42   768  
  2 Graybill, Don             SO Shippensburg           4:39.33   685  
  3 Clark, Ian                SR Kutztown               4:39.52   683  
  4 Wert, Brady               SO Slippery Rock          4:42.92   662  
  5 Schatz, Isaac             FR Kutztown               4:47.97   631  
  6 Thomas, Brendon           SO Millersville           4:48.33   629  
  7 Rose, Mike                JR Slippery Rock          4:48.47   628  
  8 Phillips, Mike            FR Lock Haven             4:52.95   601  
  9 Rogers, Matt              JR Millersville           4:56.74   579  
 10 LaBelle, Phillip          FR Lock Haven             5:04.63   533  
 11 Feeney, Colin             SO East Stroudsburg       5:06.65   522  
 12 Litten, Troy              SR Indiana (Pa.)          5:08.56   511  
 13 Stewart, Chris            SO Indiana (Pa.)          5:09.25   508  
 14 Samborski, Adam           SO West Chester           5:19.68   452  
Event 3  Men Hammer Throw
==========================================================================
NCAA D2 Auto: A 58.50m                                                         
NCAA D2 Prov: P 53.00m                                                         
    Name                    Year School                  Finals           
==========================================================================
  1 Wagner, Paul              SO East Stroudsburg        54.68mP    179-05 
  2 Jones, Adam               SR Slippery Rock           53.50mP    175-06 
  3 Boutsikaris, Chris        JR Kutztown                52.30m     171-07 
  4 Rebuck, Jason             SO Kutztown                51.93m     170-04 
  5 Dart, Jim                 SR Kutztown                48.89m     160-05 
  6 Sylvia, Randy             SO Lock Haven              48.84m     160-03 
  7 Sutor, Tom                SO East Stroudsburg        47.38m     155-05 
  8 Dell, Brian               SR Slippery Rock           46.84m     153-08 
  9 Pasternacki, Scott        SO Millersville            46.20m     151-07 
 10 Minnich, Shaun            JR Shippensburg            45.75m     150-01 
 11 Henderson, Adam           JR Shippensburg            44.49m     145-11 
 12 Warning, Chris            SO Slippery Rock           43.70m     143-04 
 13 Peters, Joel              SO Slippery Rock           43.46m     142-07 
 14 Wall, Sam                 FR Kutztown                40.65m     133-04 
 15 Bowers, Eric              SR Indiana (Pa.)           39.78m     130-06 
Event 4  Women Pole Vault
==========================================================================
 Starting Ht 2.75 m  Incr:  15 cm   5 Alive
NCAA D2 Auto: A 3.91m                                                          
NCAA D2 Prov: P 3.60m                                                          
    Name                    Year School                  Finals           
==========================================================================
  1 Hansen, Jennifer          JR Slippery Rock            4.06mA  13-03.75 
  2 Strickland, Kelly         SO Kutztown                 3.50m   11-05.75 
  3 McKissick, Abby           SR Slippery Rock            3.35m   10-11.75 
  4 Reppermund, Sarah         JR Slippery Rock           J3.35m   10-11.75 
  5 Weigle, Rachel            SO Kutztown                 3.20m   10-06.00 
  6 Miller, Alicia            SO Slippery Rock            3.05m   10-00.00 
  7 Wise, Alison              SO Kutztown                J3.05m   10-00.00 
  8 Conroy, Allison           FR Slippery Rock           J3.05m   10-00.00 
  9 Mancil, Ashley            FR Lock Haven              J3.05m   10-00.00 
 10 Matscherz, Brittany       SO Indiana (Pa.)            2.90m    9-06.25 
 10 Blessing, Lindsay         JR Lock Haven               2.90m    9-06.25 
 10 Dworek, Ashley            SO Indiana (Pa.)            2.90m    9-06.25 
 10 Morrison, Danielle        FR California (Pa.)         2.90m    9-06.25 
 14 Morgan, Caitlin           FR Mansfield                2.75m    9-00.25 
 14 Raymond, Crista           FR Shippensburg             2.75m    9-00.25 
 14 Gaiotti, Abby             FR Mansfield                2.75m    9-00.25 
Event 5  Women High Jump
==========================================================================
 Starting Ht  1.50  Incr: 5 cmn   5 Alive
NCAA D2 Auto: A 1.75m                                                          
NCAA D2 Prov: P 1.68m                                                          
    Name                    Year School                  Finals           
==========================================================================
  1 Hendershot, Whitney       FR Slippery Rock            1.73mP   5-08.00 
  2 Mayer, Lynn               FR East Stroudsburg        J1.73mP   5-08.00 
  3 Morse, Chelsea            JR Lock Haven               1.65m    5-05.00 
  4 Butler, Katie             FR West Chester            J1.65m    5-05.00 
  5 Brumfield, Katrina        SR Mansfield                1.60m    5-03.00 
  6 Bruder, Kelly             FR Slippery Rock           J1.60m    5-03.00 
  7 Carito, Trina             SO East Stroudsburg        J1.60m    5-03.00 
  8 Smith, Janelle            SO East Stroudsburg        J1.60m    5-03.00 
  8 Nist, Joanna              SO California (Pa.)        J1.60m    5-03.00 
  9 Drummond, Casey           SR Shippensburg            J1.60m    5-03.00 
 10 Foster, Katie             SO Mansfield               J1.60m    5-03.00 
 12 Newhart, Rebekah          FR Shippensburg             1.55m    5-01.00 
 12 Youra, Jackie             FR Indiana (Pa.)            1.55m    5-01.00 
 12 Kloeker, Jessica          SO Slippery Rock            1.55m    5-01.00 
 12 Hollick, Emily            SO East Stroudsburg         1.55m    5-01.00 
 16 Pence, Heather            FR Edinboro                 1.50m    4-11.00 
 16 Jacob, C.J.               FR West Chester             1.50m    4-11.00 
Event 6  Men Discus Throw
==========================================================================
 9 to Finals
NCAA D2 Auto: A 52.00m                                                         
NCAA D2 Prov: P 48.76m                                                         
    Name                    Year School                  Finals           
==========================================================================
  1 Gray, Mike                SO Mansfield               50.41mP    165-05 
  2 Warning, Chris            SO Slippery Rock           47.59m     156-02 
  3 Dart, Jim                 SR Kutztown                46.96m     154-01 
  4 Rebuck, Jason             SO Kutztown                44.97m     147-06 
  5 Wagner, Paul              SO East Stroudsburg        44.95m     147-06 
  6 Henderson, Adam           JR Shippensburg            44.54m     146-01 
  7 Tyson, Steve              SR Kutztown                43.32m     142-01 
  8 Sylvia, Randy             SO Lock Haven              42.22m     138-06 
  9 D'Arcy, Steve             FR Shippensburg            40.97m     134-05 
 10 Bowers, Eric              SR Indiana (Pa.)           40.61m     133-03 
 11 Wolfe, Logan              SO Lock Haven              40.54m     133-00 
 12 Jones, Adam               SR Slippery Rock           40.31m     132-03 
 13 Bittner, Kevin            SO Indiana (Pa.)           38.95m     127-09 
 14 Wall, Sam                 FR Kutztown                38.30m     125-08 
 15 Cohen, Andrew             JR Indiana (Pa.)           36.51m     119-09 
Event 7  Women Long Jump
===============================================================================
 9 to Finals
NCAA D2 Auto: A 5.90m                                                          
NCAA D2 Prov: P 5.60m                                                          
    Name                    Year School                  Finals  Wind          
===============================================================================
  1 Snider, Cassie            SO Lock Haven               5.48m  -0.6  17-11.75 
  2 Morse, Chelsea            JR Lock Haven               5.40m  +0.0  17-08.75 
  3 Hansen, Jennifer          JR Slippery Rock            5.25m   1.0  17-02.75 
  4 Jacob, C.J.               FR West Chester             5.22m  +0.0  17-01.50 
  5 Ferguson, Erica           SO Mansfield                5.16m   0.1  16-11.25 
  6 Minium, Amy               JR Slippery Rock            5.14m   0.7  16-10.50 
  7 Nist, Joanna              SO California (Pa.)        J5.14m  -0.2  16-10.50 
  8 Deller, Laura             SR Kutztown                 5.11m   1.2  16-09.25 
  9 Foye, Brittany            FR West Chester             5.09m   0.3  16-08.50 
 10 Butler, Alexandra         JR Kutztown                 5.07m  -0.1  16-07.75 
 11 Foster, Katie             SO Mansfield                5.02m   0.2  16-05.75 
 11 Warren, Kristie           JR Lock Haven               5.02m   0.3  16-05.75 
 13 Newhart, Rebekah          FR Shippensburg             4.98m  +0.0  16-04.25 
 14 Good, Karen               JR Shippensburg             4.90m   0.7  16-01.00 
 15 Young, Ashley             JR Edinboro                 4.83m  -0.2  15-10.25 
Event 8  Women Shot Put
==========================================================================
 9 to Finals
NCAA D2 Auto: A 14.90m                                                         
NCAA D2 Prov: P 13.30m                                                         
    Name                    Year School                  Finals           
==========================================================================
  1 Andrews, Jennifer         SR Lock Haven              13.42mP  44-00.50 
  2 Pinter, Ashley            FR Kutztown                12.90m   42-04.00 
  3 Gumby, Jakia              JR Lock Haven              12.66m   41-06.50 
  4 Colwell, Gretchen         SR Indiana (Pa.)           12.36m   40-06.75 
  5 Jackson, Liz              SO West Chester            12.13m   39-09.75 
  6 Seymore, Noreen           SO West Chester            12.12m   39-09.25 
  7 Nwokedi, Chinonyelum      JR Clarion                 12.06m   39-07.00 
  8 Hughes, Michelle          SR Kutztown               J12.06m   39-07.00 
  9 Leonard, Alaina           FR Lock Haven              11.93m   39-01.75 
 10 Weber, Rachel             SO Slippery Rock           11.33m   37-02.25 
 10 Merlie, Margaret          FR Shippensburg            11.33m   37-02.25 
 12 Berthlesen, Jackie        FR East Stroudsburg        11.29m   37-00.50 
 13 Carothers, Emily          SO East Stroudsburg        11.22m   36-09.75 
 14 Laws, Danielle            FR East Stroudsburg        11.12m   36-05.75 
 15 Goetter, Krysten          SO Shippensburg            11.11m   36-05.50 
 16 Clark, Lindsay            JR Millersville            10.67m   35-00.25 
Event 9  Men Long Jump
===============================================================================
 9 to Finals
NCAA D2 Auto: A 7.50m                                                          
NCAA D2 Prov: P 7.15m                                                          
    Name                    Year School                  Finals  Wind          
===============================================================================
  1 Gardner, Chris            SR Indiana (Pa.)            7.35mP +0.0  24-01.50 
  2 James, Jamal              SR Shippensburg             7.14m   0.3  23-05.25 
  3 Duruobasa, Franklin       SR Edinboro                 7.10m   0.4  23-03.50 
  4 Cohick, Sean              JR Shippensburg             7.07m  +0.0  23-02.50 
  5 Coberly, Nick             FR Lock Haven               6.91m   1.5  22-08.00 
  6 Bass, Derrick             SO Millersville            J6.91m   1.2  22-08.00 
  7 Kramer, Mike              FR Kutztown                 6.83m  +0.0  22-05.00 
  8 Lurops, Ivars             SR Lock Haven               6.81m   0.9  22-04.25 
  9 Peterson, Devin           FR Kutztown                 6.79m  +0.0  22-03.50 
 10 Celestin, Matt            SO Indiana (Pa.)            6.77m  -1.1  22-02.50 
 11 Samborski, Adam           SO West Chester             6.71m  -1.7  22-00.25 
 12 Lehman, Allan             SO Shippensburg             6.63m   1.1  21-09.00 
 13 Boyd, Stephen Kyle        JR Millersville             6.56m  +0.0  21-06.25 
 14 Miller, Drew              SO East Stroudsburg         6.51m   1.1  21-04.25 
Event 10  Women Javelin Throw
==========================================================================
 9 to Finals
NCAA D2 Auto: A 44.55m                                                         
NCAA D2 Prov: P 41.00m                                                         
    Name                    Year School                  Finals           
==========================================================================
  1 Stinson, Ann              SO Clarion                 43.88mP    143-11 
  2 Doran, Kahla              SO East Stroudsburg        43.30mP    142-01 
  3 Highfield, Ashlee         SR Edinboro                39.01m     128-00 
  4 Waha, Casey               JR Indiana (Pa.)           38.82m     127-04 
  5 Housholder, Lindsey       JR Shippensburg            38.54m     126-05 
  6 Roth, Kami                SR Lock Haven              38.44m     126-01 
  7 Weikel, Jillian           FR Shippensburg            37.68m     123-07 
  8 Cardullo, Allyson         FR East Stroudsburg        36.70m     120-05 
  9 Moore, Amber              SR Slippery Rock           36.69m     120-04 
 10 Pennington, Lakyn         FR Lock Haven              34.70m     113-10 
 11 Lombardo, Caitlin         FR Slippery Rock           34.66m     113-08 
 12 Shannon, Nicole           FR Indiana (Pa.)           34.20m     112-02 
 13 Leitzel, Rebekah          FR Kutztown                34.14m     112-00 
 14 Merlie, Margaret          FR Shippensburg            31.98m     104-11 
 15 Briggs, Alexis            FR Shippensburg            26.31m      86-04 
Event 12  Women 10000 Meter Run
================================================================
    Name                    Year School                  Finals 
================================================================
  1 Williams, Stephanie       SR Kutztown              36:41.72  
  2 Lanzel, Rachael           JR Edinboro              36:55.14  
  3 Bleasser, Nicole          SR Slippery Rock         36:55.26  
  4 Kramer, Leslie            JR Slippery Rock         39:02.54  
  5 Burnick, Crystal          FR Slippery Rock         39:13.14  
  6 Bork, Katie               SR Slippery Rock         39:29.16  
  7 Cupido, Kristin           FR Kutztown              40:03.44  
  8 Johanson, Lori            SR East Stroudsburg      41:04.95  
  9 Younger, Becky            FR Slippery Rock         42:44.88  
Event 13  Men 10000 Meter Run
================================================================
    Name                    Year School                  Finals 
================================================================
  1 Blood, Ryan               SR Lock Haven            30:27.78  
  2 Weiss, Jeff               JR Slippery Rock         30:31.08  
  3 Reagan, Pat               JR Slippery Rock         31:02.51  
  4 Niemira, David            SR Edinboro              31:10.70  
  5 Yeatts, Jed               SO Lock Haven            31:39.15  
  6 Brenner, Eric             SO Edinboro              31:50.61  
  7 Litvinov, Mikhail         JR Bloomsburg            31:52.11  
  8 Getz, Tim                 FR Lock Haven            32:08.91  
  9 Dalton, Mike              JR Bloomsburg            32:19.05  
 10 Marcoe, Tim               SR Bloomsburg            33:06.54  
 11 Johnson, A.J.             FR Lock Haven            33:23.07  
 12 Combs, Mike               SR Slippery Rock         33:30.76  
 13 Mumford, Matt             FR Slippery Rock         34:10.27  
Event 14  Women 4x100 Meter Relay
===================================================================
NCAA D2 Auto: A 46.00                                                          
NCAA D2 Prov: P 47.60                                                          
    School                                              Prelims  H#
===================================================================
Preliminaries
  1 Slippery Rock  'A'                                    47.64Q  2 
     1) Cochran, Lacey JR               2) Beggs, Tina SO                 
     3) Tedesco, Tiffany FR             4) Bush, Emily SR                 
  2 East Stroudsburg  'A'                                 48.38Q  1 
     1) Doyle, Katherine JR             2) Johnson, Jasmine FR            
     3) Iglesias, Nashanti FR           4) Schillinger, Amilee JR         
  3 California (Pa.)  'A'                                 49.21q  2 
     1) Testa, Monique FR               2) Jarjisian, Heather SR          
     3) Nist, Joanna SO                 4) Malay, Danielle SR             
  4 Shippensburg  'A'                                     49.24q  1 
     1) Henzy, Laura FR                 2) Hare, Shannon SO               
     3) Hess, Erica FR                  4) Richards, Siobhan JR           
  5 Kutztown  'A'                                         49.48q  2 
     1) Donovan, Jessica JR             2) Spangenberg, Heather SO        
     3) Deller, Laura SR                4) Barczynski, Samirah SO         
  6 Mansfield  'A'                                        49.63q  1 
     1) Brumfield, Katrina SR           2) Ferguson, Erica SO             
     3) Kelley, Ryan FR                 4) Toter, Jenelle FR              
  7 West Chester  'A'                                     49.70q  1 
     1) Baker, Maria JR                 2) Scardino, Danielle SR          
     3) Lauro, Mackenzie FR             4) Wetherhold, Ashley SO          
  8 Lock Haven  'A'                                       49.84q  2 
     1) Pierce, Angela SR               2) Hamler, Brooke SO              
     3) Snider, Cassie SO               4) Warren, Kristie JR             
  9 Millersville  'A'                                     51.33   2 
     1) Bernetski, Stacey JR            2) Majka, Maggie FR               
     3) Yanora, Brittany SO             4) Geesey, Krysty SO              
 10 Cheyney  'A'                                          53.84   1 
     1) Harris, Janet SO                2) Cayo, Isabelle SO              
     3) Johnson, Shaina JR              4) Anderson, Georgia SO           
Event 15  Men 4x100 Meter Relay
===================================================================
NCAA D2 Auto: A 40.25                                                          
NCAA D2 Prov: P 41.35                                                          
    School                                              Prelims  H#
===================================================================
  1 California (Pa.)  'A'                                 41.44Q  2 
     1) Cole, Dennis JR                 2) Baker, CJ FR                   
     3) Ehrensberger, Frank SO          4) Rager, Bradley SR              
  2 Shippensburg  'A'                                     42.26Q  1 
     1) James, Jamal SR                 2) Wilson, James JR               
     3) Cohick, Sean JR                 4) Terrell, Alex SR               
  3 West Chester  'A'                                     42.02q  2 
     1) Demore, Wayne JR                2) Eaton, Jarret FR               
     3) Hammond, Eric JR                4) Nasko, Dan SO                  
  4 Cheyney  'A'                                          42.13q  2 
     1) Hunter, Ronald SO               2) Curry, Dominique JR            
     3) Wesley, Cyrus SR                4) Vallery, James SO              
  5 East Stroudsburg  'A'                                 42.34q  1 
     1) Ashfield, Asher FR              2) Pammer, Greg FR                
     3) Reddick, Chris SO               4) McCloskey, Andrew SO           
  6 Kutztown  'A'                                         42.35q  2 
     1) Peterson, Devin FR              2) Kramer, Mike FR                
     3) Dixon, Kendel JR                4) Gibbs, Justin SR               
  7 Lock Haven  'A'                                       42.54q  1 
     1) Faulkner, Preston FR            2) Coberly, Nick FR               
     3) Wilkinson, Shawn SO             4) Keefer, Brian FR               
  8 Millersville  'A'                                     43.09q  2 
     1) Bass, Derrick SO                2) Boyd, Stephen Kyle JR          
     3) Reyes, Kelvin SR                4) Thomas, Brendon SO             
Event 16  Women 100 Meter Hurdles
========================================================================
NCAA D2 Auto: A 14.00                                                          
NCAA D2 Prov: P 14.60                                                          
    Name                    Year School                 Prelims  Wind H#
========================================================================
  1 Scardino, Danielle        SR West Chester           P 14.44Q  NWI  1 
  2 Morcom, Michelle          JR Shippensburg             14.61Q +0.0  2 
  3 Malay, Danielle           SR California (Pa.)         15.01q +0.0  2 
  4 Seigworth, Amanda         FR Slippery Rock            15.29q +0.0  2 
  5 Jacob, C.J.               FR West Chester             15.62q +0.0  2 
  6 Grussenmeyer, Kristina    JR Shippensburg             15.69q  NWI  1 
  7 Smith, Allison            FR Slippery Rock            15.76q  NWI  1 
  8 Butler, Katie             FR West Chester             15.81q  NWI  1 
  9 Baker, Maria              JR West Chester             15.89  +0.0  2 
 10 Mackey, Brittiny          FR East Stroudsburg         16.10  +0.0  2 
 11 Maloney, Jamie            SO Clarion                  16.20  +0.0  2 
 12 Strickenberger, Andrea    JR Clarion                  16.38   NWI  1 
 13 Knowles, Brittany         FR East Stroudsburg         16.44   NWI  1 
Event 17  Men 110 Meter Hurdles
========================================================================
NCAA D2 Auto: A 14.15                                                          
NCAA D2 Prov: P 14.65                                                          
    Name                    Year School                 Prelims  Wind H#
========================================================================
  1 Eaton, Jarret             FR West Chester           P 14.43Q  NWI  2 
  2 Martin, Paul              JR Lock Haven               14.86Q -0.1  1 
  3 Myers, Brice              FR California (Pa.)         14.83q  NWI  2 
  4 Redley, Kurt              SR Kutztown                 14.88q -0.1  1 
  5 Smith, Russell            SO East Stroudsburg         15.07q  NWI  2 
  6 Harvey, Shane             FR Kutztown                 15.15q  NWI  2 
  7 Real, Tyler               FR Shippensburg             15.23q -0.1  1 
  8 English, James            SR Edinboro                 15.28q  NWI  2 
  9 Stalma, Kris              SO Slippery Rock            15.44  -0.1  1 
 10 Gibbs, Justin             SR Kutztown                 15.56  -0.1  1 
 11 Longmore, TJ              SO Kutztown                 15.94  -0.1  1 
Event 18  Women 400 Meter Dash
===================================================================
NCAA D2 Auto: A 55.00                                                          
NCAA D2 Prov: P 56.80                                                          
    Name                    Year School                 Prelims  H#
===================================================================
  1 Hess, Erica               FR Shippensburg           P 56.15Q  1 
  2 Cochran, Lacey            JR Slippery Rock          P 56.54Q  2 
  3 Hare, Shannon             SO Shippensburg             57.01q  1 
  4 Johnson, Jasmine          FR East Stroudsburg         57.41q  2 
  5 Henzy, Laura              FR Shippensburg             58.02q  1 
  6 Wolf, Meagan              SO Lock Haven               58.82q  1 
  7 Snider, Cassie            SO Lock Haven               58.89q  2 
  8 Spangenberg, Heather      SO Kutztown                 59.27q  2 
  9 Yanora, Brittany          SO Millersville             59.32   1 
 10 Hodges, Donnell           FR Shippensburg           1:00.20   2 
 11 Kelly, Ryan              FR Mansfield              1:00.94   1 
Event 19  Men 400 Meter Dash
===================================================================
NCAA D2 Auto: A 46.80                                                          
NCAA D2 Prov: P 48.00                                                          
    Name                    Year School                 Prelims  H#
===================================================================
  1 Rager, Bradley            SR California (Pa.)       P 47.64Q  2 
  2 Baker, CJ                 FR California (Pa.)         48.25Q  1 
  3 Edelman, Chris            SO Lock Haven               48.30q  2 
  4 Ehrensberger, Frank       SO California (Pa.)         48.67q  1  48.662
  5 Graham, Negus             SO Cheyney                  48.67q  1  48.667
  6 Dixon, Kendel             JR Kutztown                 48.72q  1 
  7 Reddick, Chris            SO East Stroudsburg         48.97q  1 
  8 Kiser, Edward             SO East Stroudsburg         49.05q  2 
  9 Vallery, James            SO Cheyney                  49.49   2 
 10 Davis, Derrick            SO Cheyney                  49.83   2 
 11 Fortunato, Gabe           JR Slippery Rock            49.87   1 
 12 Espenshade, Craig         FR West Chester             49.96   2 
 13 Hixson, Steve             SR Kutztown                 50.26   2 
 14 Wagner, Joe               JR Shippensburg             50.35   1 
 15 Prudente, Tony            SR East Stroudsburg         50.44   1 
Event 20  Women 100 Meter Dash
========================================================================
NCAA D2 Auto: A 11.65                                                          
NCAA D2 Prov: P 12.10                                                          
    Name                    Year School                 Prelims  Wind H#
========================================================================
  1 Scardino, Danielle        SR West Chester             12.27Q  0.4  2 
  2 Tedesco, Tiffany          FR Slippery Rock            12.36Q  0.4  1 
  3 Doyle, Katherine          JR East Stroudsburg         12.38q  0.4  1 
  4 Bush, Emily               SR Slippery Rock            12.48q  0.4  2 
  5 Beggs, Tina               SO Slippery Rock            12.51q  0.4  2 
  6 Brumfield, Katrina        SR Mansfield                12.64q  0.4  2 
  7 Richards, Siobhan         JR Shippensburg             12.71q  0.4  2 
  8 Barczynski, Samirah       SO Kutztown                 12.71q  0.4  1 
  9 Jarjisian, Heather        SR California (Pa.)         12.72   0.4  1 
 10 Hare, Shannon             SO Shippensburg             12.79   0.4  1 
 11 Dubs, Emily               FR Shippensburg             12.87   0.4  2 
 12 Iglesias, Nashanti        FR East Stroudsburg         13.00   0.4  2 
 13 Knapp, Rachel             FR Slippery Rock            13.03   0.4  1 
 14 Lauro, Mackenzie          FR West Chester             13.06   0.4  2 
 15 Nwokedi, Chinonyelum      JR Clarion                  13.12   0.4  1 
Event 21  Men 100 Meter Dash
========================================================================
NCAA D2 Auto: A 10.35                                                          
NCAA D2 Prov: P 10.65                                                          
    Name                    Year School                 Prelims  Wind H#
========================================================================
  1 Mueller, Brad             SR Slippery Rock          P 10.58Q  0.6  2 
  2 Wesley, Cyrus             SR Cheyney                  10.68Q  0.3  3 
  3 Debardelaben, Jeren       FR Slippery Rock            10.73Q  0.5  1 
  4 Mock, Greg                SO Lock Haven               10.78q  0.5  1 
  5 McCloskey, Andrew         SO East Stroudsburg         10.81q  0.3  3 
  6 James, Jamal              SR Shippensburg             10.82q  0.5  1 
  7 Kramer, Mike              FR Kutztown                 10.97q  0.5  1 
  8 Lockley, Justin           JR Lock Haven               10.99q  0.6  2 
  9 Hunter, Ronald            SO Cheyney                  11.03   0.3  3 
 10 Ashfield, Asher           FR East Stroudsburg         11.07   0.6  2 
 11 Peterson, Devin           FR Kutztown                 11.10   0.5  1 
 12 Demore, Wayne             JR West Chester             11.15   0.6  2 
 13 Cole, Dennis              JR California (Pa.)         11.16   0.6  2 
 14 Johnson, Terrence         SO California (Pa.)         11.21   0.3  3 
 15 Curry, Dominique          JR Cheyney                  11.23   0.5  1 
 16 Reyes, Kelvin             SR Millersville             11.33   0.3  3 
 17 Kirland, Richard          FR Cheyney                  11.38   0.3  3 
 18 Farrah, Adan              FR Kutztown                 11.55   0.6  2 
 19 Phillips, Todd            FR Shippensburg             11.68   0.6  2 
Event 22  Women 800 Meter Run
================================================================
NCAA D2 Auto: A 2:10.50                                                        
NCAA D2 Prov: P 2:15.00                                                        
    Name                    Year School                 Prelims 
================================================================
  1 Urban, Holly              SR California (Pa.)     P 2:12.26Q 
  2 Dell, Mary                SO Shippensburg         P 2:12.53Q 
  3 Newell, Sandy             FR Bloomsburg             2:15.98Q 
  4 Huber, Abigail            FR Shippensburg         P 2:13.83Q 
  5 Horstmann, Joanna         JR Kutztown               2:15.50Q 
  6 Jennings, Priscilla       JR Millersville           2:16.86Q 
  7 Simms, Shala              JR Lock Haven           P 2:14.66q 
  8 Newell, Maureen           JR Indiana (Pa.)          2:15.36q 
  9 Ehrensberger, Kate        JR Clarion                2:17.04  
 10 Douma, Alyssa             JR Lock Haven             2:17.27  
 11 Hull, Rachel              SO Millersville           2:18.39  
 12 Brown, Keri               FR Kutztown               2:19.98  
 13 Schlecter, Jessica        SO Kutztown               2:20.09  
 14 Watson, Maureen           SO Kutztown               2:20.33  
 15 Collins, Jolene           SO Kutztown               2:21.47  
 16 Thornton, Amy             JR Millersville           2:22.02  
 17 Gormley, Jenna            FR Shippensburg           2:24.65  
 18 Yodis, Rachel             FR Millersville           2:30.25  
Event 23  Men 800 Meter Run
================================================================
NCAA D2 Auto: A 1:50.00                                                        
NCAA D2 Prov: P 1:52.60                                                        
    Name                    Year School                 Prelims 
================================================================
  1 Strauman, Sean            SR Indiana (Pa.)        P 1:50.13Q 
  2 Garcia, Victor            JR Mansfield              1:53.59Q 
  3 Rector, Phil              SO Slippery Rock          1:54.56Q 
  4 Neyhart, Joshua           SO Shippensburg           1:54.47Q 
  5 Malloy, Adam              SR Millersville           1:54.72Q 
  6 Sanford, Dave             SR Mansfield              1:55.34Q 
  7 Gordon, Matt              SO West Chester           1:54.75q 
  8 Boorse, William           SR Kutztown               1:55.09q 
  9 McConnell, Ben            JR Lock Haven             1:55.72  
 10 Tallarico, Dan            SR Bloomsburg             1:55.86  
 11 Boyer, Ryan               SO Shippensburg           1:55.94  
 12 Baker, Eric               SR Shippensburg           1:56.50  
 13 Kennedy, Nate             SR West Chester           1:56.55  
 14 Norley, Jim               FR East Stroudsburg       1:56.66  
 15 Cannata, Phil             SO Edinboro               1:56.78  
 16 Amy, Justin               FR Lock Haven             1:56.92  
 17 Wainwright, Steve         FR Indiana (Pa.)          1:58.94  
 18 Jamieson, Jason           FR Slippery Rock          1:59.89  
 19 Smith, Blake              SO Mansfield              1:59.99  
 20 Stiger, Aidan             JR Millersville           2:00.39  
Event 24  Women 400 Meter Hurdles
===================================================================
NCAA D2 Auto: A 1:00.00                                                        
NCAA D2 Prov: P 1:03.00                                                        
    Name                    Year School                 Prelims  H#
===================================================================
  1 Malay, Danielle           SR California (Pa.)     P 1:00.14Q  1 
  2 Smith, Allison            FR Slippery Rock        P 1:02.62Q  2 
  3 Pierce, Angela            SR Lock Haven             1:03.27q  2 
  4 Seigworth, Amanda         FR Slippery Rock          1:03.36q  2 
  5 Morcom, Michelle          JR Shippensburg           1:03.64q  1 
  6 Sackin, Jessica           SO Slippery Rock          1:04.35q  1 
  7 Maloney, Jamie            SO Clarion                1:04.99q  1 
  8 Wolf, Meagan              SO Lock Haven             1:05.35q  1 
  9 Lisofsky, Lynn            FR Kutztown               1:05.76   2 
 10 Hollick, Emily            SO East Stroudsburg       1:06.22   2 
 11 Dubs, Emily               FR Shippensburg           1:06.31   1 
 12 Richards, Siobhan         JR Shippensburg           1:06.46   2 
 13 Donovan, Jessica          JR Kutztown               1:06.60   2 
 14 Parillo, Kara             JR East Stroudsburg       1:09.60   1 
Event 25  Men 400 Meter Hurdles
===================================================================
NCAA D2 Auto: A 51.65                                                          
NCAA D2 Prov: P 53.40                                                          
    Name                    Year School                 Prelims  H#
===================================================================
  1 Martin, Paul              JR Lock Haven             P 51.95Q  1 
  2 Shadeck, Nate             SR Slippery Rock            53.94Q  3 
  3 Borst, Jason              FR Edinboro                 55.07Q  2 
  4 Gibbs, Justin             SR Kutztown                 54.59q  3 
  5 Redley, Kurt              SR Kutztown                 54.72q  3 
  6 Wilkinson, Shawn          SO Lock Haven               54.77q  3 
  7 Murphy, Mike              JR Shippensburg             55.20q  1 
  8 Eaton, Jarret             FR West Chester             55.76q  2 
  9 Harvey, Shane             FR Kutztown                 56.25   1 
 10 Swetra, Adam              JR West Chester             56.94   1 
 11 Butterworth, Jeremy       JR East Stroudsburg         57.11   3 
 12 Reilly, Tom               SO West Chester             57.20   3 
 13 Rowles, Jason             SO Kutztown                 57.27   2 
 14 Akins, Eric               FR West Chester             57.47   2 
 15 Novick, Eric              JR Slippery Rock            57.99   1 
 16 Allen, David              FR Slippery Rock            58.69   2 
 17 Elder, Ben                SO Lock Haven               59.23   1 
Event 26  Women 200 Meter Dash
========================================================================
NCAA D2 Auto: A 23.95                                                          
NCAA D2 Prov: P 24.80                                                          
    Name                    Year School                 Prelims  Wind H#
========================================================================
  1 Cochran, Lacey            JR Slippery Rock            25.15Q -0.2  3 
  2 Tedesco, Tiffany          FR Slippery Rock            25.58Q  0.3  2 
  3 Scardino, Danielle        SR West Chester             25.69Q  0.4  1 
  4 Hess, Erica               FR Shippensburg             25.43q -0.2  3 
  5 Doyle, Katherine          JR East Stroudsburg         25.73q -0.2  3 
  6 Beggs, Tina               SO Slippery Rock            25.83q  0.3  2 
  7 Jarjisian, Heather        SR California (Pa.)         25.85q  0.4  1 
  8 Henzy, Laura              FR Shippensburg             26.03q  0.4  1 
  9 Yanora, Brittany          SO Millersville             26.28   0.3  2 
 10 Ferguson, Erica           SO Mansfield                26.37   0.3  2 
 11 Brumfield, Katrina        SR Mansfield                26.45   0.4  1 
 12 Schillinger, Amilee       JR East Stroudsburg         26.66   0.4  1 
 13 Barczynski, Samirah       SO Kutztown                 26.86   0.3  2 
 14 Hamler, Brooke            SO Lock Haven               26.99  -0.2  3 
 15 Dubs, Amanda              FR Shippensburg             27.11  -0.2  3 
Event 27  Men 200 Meter Dash
========================================================================
NCAA D2 Auto: A 21.00                                                          
NCAA D2 Prov: P 21.48                                                          
    Name                    Year School                 Prelims  Wind H#
========================================================================
  1 McCloskey, Andrew         SO East Stroudsburg         21.67Q  0.4  3 
  2 Rager, Bradley            SR California (Pa.)         21.68Q +0.0  1 
  3 Wesley, Cyrus             SR Cheyney                  21.77Q  0.1  2 
  4 James, Jamal              SR Shippensburg             21.96Q  0.2  4 
  5 Debardelaben, Jeren       FR Slippery Rock            21.82q  0.4  3 
  6 Baker, CJ                 FR California (Pa.)         21.92q +0.0  1 
  7 Ehrensberger, Frank       SO California (Pa.)         22.04q  0.1  2 
  8 Vallery, James            SO Cheyney                  22.13q  0.2  4 
  9 Bass, Derrick             SO Millersville             22.19  +0.0  1 
 10 Mock, Greg                SO Lock Haven               22.24   0.4  3 
 11 Lockley, Justin           JR Lock Haven               22.27  +0.0  1 
 12 Johnson, Terrence         SO California (Pa.)         22.38   0.2  4 
 13 Hunter, Ronald            SO Cheyney                  22.40  +0.0  1 
 14 Demore, Wayne             JR West Chester             22.63   0.2  4 
 15 Graham, Negus             SO Cheyney                  22.74   0.1  2 
 16 Nasko, Dan                SO West Chester             22.76   0.1  2 
 17 Tavormina, Joe            FR Kutztown                 22.83   0.4  3 
 18 Faulkner, Preston         FR Lock Haven               22.96   0.4  3 
 19 Wagner, Joe               JR Shippensburg             23.01   0.1  2 
 20 Cole, Dennis              JR California (Pa.)         23.19   0.2  4 
 21 Reyes, Kelvin             SR Millersville             23.23   0.4  3 
 22 Phillips, Todd            FR Shippensburg             23.27   0.1  2 
 23 Farrah, Adan              FR Kutztown                 23.42   0.1  2 
 24 Bechtel, Brad             FR Shippensburg             24.20   0.4  3 
                    Women - Team Rankings - 7 Events Scored
===============================================================================
    1) Slippery Rock               65        2) Lock Haven                 59   
    2) Kutztown                    59        4) East Stroudsburg           30.50
    5) West Chester                25        6) Clarion                    20   
    7) Edinboro                    16        7) Indiana (Pa.)              16   
    9) Shippensburg                11       10) Mansfield                   8   
   11) California (Pa.)             2.50                                        
                     Men - Team Rankings - 5 Events Scored
===============================================================================
    1) Slippery Rock               44        2) Kutztown                   34   
    3) Lock Haven                  24.50     4) Shippensburg               22   
    4) Indiana (Pa.)               22        6) East Stroudsburg           16   
    7) Edinboro                    14        8) Mansfield                  10   
    9) Millersville                 3.50    10) West Chester                3   
   11) Bloomsburg                   2