Release Date: 5/3/08
For Immediate Release: Mike Gray places second in shot put at PSAC Championships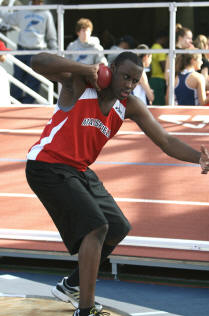 IUP- Sophomore Mike Gray finished second in the shot put with a throw of 51-11 at the PSAC Championships on Saturday at IUP.
In the 800, Dave Sanford finished in third with a time of 1:54.8 while Victor Garcia placed sixth with a time of 1:55.84.
The men's 4x4 relay team of Joe Eck, Bryan Falcone, Garcia and Sanford broke the school record with a time of 3:22.36. The previous record was 3:24.00 set in 1986. The team of Eck, Falcone, Garcia and Sanford finished in seventh place.
Senior Katrina Brumfield finished seventh in the 100 meter dash with a time of 12.87.
Ryan Detwiler, fresh off qualifying for the NCAA Divison II Nationals Championships, finished in eighth with a jump of 6-4 while Katie Foster took eighth in the triple jump with a leap of 36-01.50.
John-Mark Stoltz finished ninth in the 1500 with a time of 4:01.84 while freshmen Irene Primmer and Brenae Edwards took ninth and 10 respectively in the steeplechase.
Primmer finished with a time of 12:11.4 while Edwards finished in 12:16.6
Licensed to C.F.P.I. Timing & Data - Contractor License
Hy-Tek's Meet Manager 5/3/2008 03:32 PM
PSAC Track & Field Championships - 5/1/2008 to 5/3/2008
5/1/2008 to 5/3/2008
Results
Event 20 Women 100 Meter Dash
========================================================================
NCAA D2 Auto: A 11.65
NCAA D2 Prov: P 12.10
Name Year School Prelims Wind H#
========================================================================
Preliminaries
1 Scardino, Danielle SR West Chester 12.27Q 0.4 2
2 Tedesco, Tiffany FR Slippery Rock 12.36Q 0.4 1
3 Doyle, Katherine JR East Stroudsburg 12.38q 0.4 1
4 Bush, Emily SR Slippery Rock 12.48q 0.4 2
5 Beggs, Tina SO Slippery Rock 12.51q 0.4 2
6 Brumfield, Katrina SR Mansfield 12.64q 0.4 2
7 Richards, Siobhan JR Shippensburg 12.71q 0.4 2
8 Barczynski, Samirah SO Kutztown 12.71q 0.4 1
9 Jarjisian, Heather SR California (Pa.) 12.72 0.4 1
10 Hare, Shannon SO Shippensburg 12.79 0.4 1
11 Dubs, Emily FR Shippensburg 12.87 0.4 2
12 Iglesias, Nashanti FR East Stroudsburg 13.00 0.4 2
13 Knapp, Rachel FR Slippery Rock 13.03 0.4 1
14 Lauro, Mackenzie FR West Chester 13.06 0.4 2
15 Nwokedi, Chinonyelum JR Clarion 13.12 0.4 1

Event 20 Women 100 Meter Dash
=====================================================================
NCAA D2 Auto: A 11.65
NCAA D2 Prov: P 12.10
Name Year School Finals Wind
=====================================================================
Finals
1 Scardino, Danielle SR West Chester 12.12 1.3
2 Tedesco, Tiffany FR Slippery Rock 12.30 1.3
3 Beggs, Tina SO Slippery Rock 12.41 1.3
4 Bush, Emily SR Slippery Rock 12.56 1.3
5 Barczynski, Samirah SO Kutztown 12.74 1.3
6 Richards, Siobhan JR Shippensburg 12.78 1.3
7 Brumfield, Katrina SR Mansfield 12.87 1.3

Event 21 Men 100 Meter Dash
========================================================================
NCAA D2 Auto: A 10.35
NCAA D2 Prov: P 10.65
Name Year School Prelims Wind H#
========================================================================
Preliminaries
1 Mueller, Brad SR Slippery Rock P 10.58Q 0.6 2
2 Wesley, Cyrus SR Cheyney 10.68Q 0.3 3
3 Debardelaben, Jeren FR Slippery Rock 10.73Q 0.5 1
4 Mock, Greg SO Lock Haven 10.78q 0.5 1
5 McCloskey, Andrew SO East Stroudsburg 10.81q 0.3 3
6 James, Jamal SR Shippensburg 10.82q 0.5 1
7 Kramer, Mike FR Kutztown 10.97q 0.5 1
8 Lockley, Justin JR Lock Haven 10.99q 0.6 2
9 Hunter, Ronald SO Cheyney 11.03 0.3 3
10 Ashfield, Asher FR East Stroudsburg 11.07 0.6 2
11 Peterson, Devin FR Kutztown 11.10 0.5 1
12 Demore, Wayne JR West Chester 11.15 0.6 2
13 Cole, Dennis JR California (Pa.) 11.16 0.6 2
14 Johnson, Terrence SO California (Pa.) 11.21 0.3 3
15 Curry, Dominique JR Cheyney 11.23 0.5 1
16 Reyes, Kelvin SR Millersville 11.33 0.3 3
17 Kirland, Richard FR Cheyney 11.38 0.3 3
18 Farrah, Adan FR Kutztown 11.55 0.6 2
19 Phillips, Todd FR Shippensburg 11.68 0.6 2

Event 21 Men 100 Meter Dash
=====================================================================
NCAA D2 Auto: A 10.35
NCAA D2 Prov: P 10.65
Name Year School Finals Wind
=====================================================================
Finals
1 Mueller, Brad SR Slippery Rock 10.47P 1.0
2 Wesley, Cyrus SR Cheyney 10.75 1.0
3 Debardelaben, Jeren FR Slippery Rock 10.77 1.0
4 Mock, Greg SO Lock Haven 10.80 1.0
5 McCloskey, Andrew SO East Stroudsburg 10.81 1.0
6 James, Jamal SR Shippensburg 10.86 1.0
7 Lockley, Justin JR Lock Haven 10.98 1.0
8 Kramer, Mike FR Kutztown 11.13 1.0

Event 22 Women 800 Meter Run
================================================================
NCAA D2 Auto: A 2:10.50
NCAA D2 Prov: P 2:15.00
Name Year School Prelims
================================================================
Preliminaries
1 Urban, Holly SR California (Pa.) P 2:12.26Q
2 Dell, Mary SO Shippensburg P 2:12.53Q
3 Newell, Sandy FR Bloomsburg 2:15.98Q
4 Huber, Abigail FR Shippensburg P 2:13.83Q
5 Horstmann, Joanna JR Kutztown 2:15.50Q
6 Jennings, Priscilla JR Millersville 2:16.86Q
7 Simms, Shala JR Lock Haven P 2:14.66q
8 Newell, Maureen JR Indiana (Pa.) 2:15.36q
9 Ehrensberger, Kate JR Clarion 2:17.04
10 Douma, Alyssa JR Lock Haven 2:17.27
11 Hull, Rachel SO Millersville 2:18.39
12 Brown, Keri FR Kutztown 2:19.98
13 Schlecter, Jessica SO Kutztown 2:20.09
14 Watson, Maureen SO Kutztown 2:20.33
15 Collins, Jolene SO Kutztown 2:21.47
16 Thornton, Amy JR Millersville 2:22.02
17 Gormley, Jenna FR Shippensburg 2:24.65
18 Yodis, Rachel FR Millersville 2:30.25

Event 22 Women 800 Meter Run
================================================================
NCAA D2 Auto: A 2:10.50
NCAA D2 Prov: P 2:15.00
Name Year School Finals
================================================================
Finals
1 Jennings, Priscilla JR Millersville 2:10.22A
2 Dell, Mary SO Shippensburg 2:11.80P
3 Urban, Holly SR California (Pa.) 2:12.02P
4 Simms, Shala JR Lock Haven 2:14.37P
5 Horstmann, Joanna JR Kutztown 2:15.18
6 Huber, Abigail FR Shippensburg 2:16.74
7 Newell, Sandy FR Bloomsburg 2:16.83
8 Newell, Maureen JR Indiana (Pa.) 2:17.54

Event 23 Men 800 Meter Run
================================================================
NCAA D2 Auto: A 1:50.00
NCAA D2 Prov: P 1:52.60
Name Year School Prelims
================================================================
Preliminaries
1 Strauman, Sean SR Indiana (Pa.) P 1:50.13Q
2 Garcia, Victor JR Mansfield 1:53.59Q
3 Rector, Phil SO Slippery Rock 1:54.56Q
4 Neyhart, Joshua SO Shippensburg 1:54.47Q
5 Malloy, Adam SR Millersville 1:54.72Q
6 Sanford, Dave SR Mansfield 1:55.34Q
7 Gordon, Matt SO West Chester 1:54.75q
8 Boorse, William SR Kutztown 1:55.09q
9 McConnell, Ben JR Lock Haven 1:55.72
10 Tallarico, Dan SR Bloomsburg 1:55.86
11 Boyer, Ryan SO Shippensburg 1:55.94
12 Baker, Eric SR Shippensburg 1:56.50
13 Kennedy, Nate SR West Chester 1:56.55
14 Norley, Jim FR East Stroudsburg 1:56.66
15 Cannata, Phil SO Edinboro 1:56.78
16 Amy, Justin FR Lock Haven 1:56.92
17 Wainwright, Steve FR Indiana (Pa.) 1:58.94
18 Jamieson, Jason FR Slippery Rock 1:59.89
19 Smith, Blake SO Mansfield 1:59.99
20 Stiger, Aidan JR Millersville 2:00.39

Event 23 Men 800 Meter Run
================================================================
NCAA D2 Auto: A 1:50.00
NCAA D2 Prov: P 1:52.60
Name Year School Finals
================================================================
Finals
1 Strauman, Sean SR Indiana (Pa.) 1:48.57A
2 Rector, Phil SO Slippery Rock 1:54.38
3 Sanford, Dave SR Mansfield 1:54.58
4 Boorse, William SR Kutztown 1:54.77
5 Gordon, Matt SO West Chester 1:54.99
6 Garcia, Victor JR Mansfield 1:55.84
7 Malloy, Adam SR Millersville 1:57.41
8 Neyhart, Joshua SO Shippensburg 2:09.46

Event 24 Women 400 Meter Hurdles
===================================================================
NCAA D2 Auto: A 1:00.00
NCAA D2 Prov: P 1:03.00
Name Year School Prelims H#
===================================================================
Preliminaries
1 Malay, Danielle SR California (Pa.) P 1:00.14Q 1
2 Smith, Allison FR Slippery Rock P 1:02.62Q 2
3 Pierce, Angela SR Lock Haven 1:03.27q 2
4 Seigworth, Amanda FR Slippery Rock 1:03.36q 2
5 Morcom, Michelle JR Shippensburg 1:03.64q 1
6 Sackin, Jessica SO Slippery Rock 1:04.35q 1
7 Maloney, Jamie SO Clarion 1:04.99q 1
8 Wolf, Meagan SO Lock Haven 1:05.35q 1
9 Lisofsky, Lynn FR Kutztown 1:05.76 2
10 Hollick, Emily SO East Stroudsburg 1:06.22 2
11 Dubs, Emily FR Shippensburg 1:06.31 1
12 Richards, Siobhan JR Shippensburg 1:06.46 2
13 Donovan, Jessica JR Kutztown 1:06.60 2
14 Parillo, Kara JR East Stroudsburg 1:09.60 1

Event 24 Women 400 Meter Hurdles
================================================================
NCAA D2 Auto: A 1:00.00
NCAA D2 Prov: P 1:03.00
Name Year School Finals
================================================================
Finals
1 Malay, Danielle SR California (Pa.) 1:01.07P
2 Seigworth, Amanda FR Slippery Rock 1:01.88P
3 Smith, Allison FR Slippery Rock 1:02.89P
4 Pierce, Angela SR Lock Haven 1:03.18
5 Maloney, Jamie SO Clarion 1:03.80
6 Morcom, Michelle JR Shippensburg 1:05.17
7 Wolf, Meagan SO Lock Haven 1:06.02
8 Sackin, Jessica SO Slippery Rock 1:08.74

Event 25 Men 400 Meter Hurdles
===================================================================
NCAA D2 Auto: A 51.65
NCAA D2 Prov: P 53.40
Name Year School Prelims H#
===================================================================
Preliminaries
1 Martin, Paul JR Lock Haven P 51.95Q 1
2 Shadeck, Nate SR Slippery Rock 53.94Q 3
3 Borst, Jason FR Edinboro 55.07Q 2
4 Gibbs, Justin SR Kutztown 54.59q 3
5 Redley, Kurt SR Kutztown 54.72q 3
6 Wilkinson, Shawn SO Lock Haven 54.77q 3
7 Murphy, Mike JR Shippensburg 55.20q 1
8 Eaton, Jarret FR West Chester 55.76q 2
9 Harvey, Shane FR Kutztown 56.25 1
10 Swetra, Adam JR West Chester 56.94 1
11 Butterworth, Jeremy JR East Stroudsburg 57.11 3
12 Reilly, Tom SO West Chester 57.20 3
13 Rowles, Jason SO Kutztown 57.27 2
14 Akins, Eric FR West Chester 57.47 2
15 Novick, Eric JR Slippery Rock 57.99 1
16 Allen, David FR Slippery Rock 58.69 2
17 Elder, Ben SO Lock Haven 59.23 1

Event 25 Men 400 Meter Hurdles
================================================================
NCAA D2 Auto: A 51.65
NCAA D2 Prov: P 53.40
Name Year School Finals
================================================================
Finals
1 Martin, Paul JR Lock Haven 51.42A
2 Eaton, Jarret FR West Chester 53.41
3 Gibbs, Justin SR Kutztown 54.02
4 Shadeck, Nate SR Slippery Rock 54.18
5 Redley, Kurt SR Kutztown 54.23
6 Borst, Jason FR Edinboro 55.04
7 Wilkinson, Shawn SO Lock Haven 55.19
8 Murphy, Mike JR Shippensburg 55.28

Event 29 Men High Jump
==========================================================================
Starting Ht: 1.88 m Incr: 5 cm 5 Alive
NCAA D2 Auto: A 2.16m
NCAA D2 Prov: P 2.05m
Name Year School Finals
==========================================================================
1 Toney, Leander FR Shippensburg 2.13mP 6-11.75
2 Gardner, Chris SR Indiana (Pa.) 2.08mP 6-09.75
3 Lurops, Ivars SR Lock Haven 2.03m 6-08.00
4 Martin, Paul JR Lock Haven 1.98m 6-06.00
5 Brenner, Steve SR Slippery Rock J1.98m 6-06.00
6 Boatwright, Jordan FR California (Pa.) J1.98m 6-06.00
7 Kramer, Ryan JR East Stroudsburg J1.98m 6-06.00
8 Detwiller, Ryan SO Mansfield 1.93m 6-04.00
9 Hartzler, Cody JR Kutztown 1.88m 6-02.00
9 Jones, Darryl SR Cheyney 1.88m 6-02.00
11 Clark, Ian SR Kutztown J1.88m 6-02.00

Event 30 Men Triple Jump
===============================================================================
9 to Finals
NCAA D2 Auto: A 15.30m
NCAA D2 Prov: P 14.45m
Name Year School Finals Wind
===============================================================================
1 Miller, Drew SO East Stroudsburg 14.77mP +0.0 48-05.50
2 Okafor, Joseph SR Cheyney 14.46mP +0.0 47-05.25
3 Draper, Terrace FR Slippery Rock 14.42m +0.0 47-03.75
4 Celestin, Matt SO Indiana (Pa.) 14.17m +0.0 46-06.00
5 Boatwright, Jordan FR California (Pa.) J14.17m +0.0 46-06.00
6 Jackson, Tariq JR Cheyney 13.94m +0.0 45-09.00
7 Lurops, Ivars SR Lock Haven 13.78m 0.5 45-02.50
8 Picarella, Dan FR Lock Haven 13.25m -0.4 43-05.75
9 Brown, Jesse FR Shippensburg 13.24m +0.0 43-05.25
10 Coberly, Nick FR Lock Haven 13.06m +0.0 42-10.25
11 Lehman, Allan SO Shippensburg 13.00m +0.0 42-08.00
12 Gualberti, Stephen SO Shippensburg 12.91m -0.3 42-04.25
13 Curry, Dominique JR Cheyney 12.80m +0.0 42-00.00
14 Duruobasa, Franklin SR Edinboro 12.79m +0.0 41-11.50
15 Barbour, Maurice SR Shippensburg 12.05m -0.4 39-06.50

Event 31 Men Shot Put
==========================================================================
9 to Finals
NCAA D2 Auto: A 16.90m
NCAA D2 Prov: P 15.90m
Name Year School Finals
==========================================================================
1 Dart, Jim SR Kutztown 15.99mP 52-05.50
2 Gray, Mike SO Mansfield 15.82m 51-11.00
3 Minnich, Shaun JR Shippensburg 15.47m 50-09.25
4 Jones, Adam SR Slippery Rock 15.38m 50-05.50
5 Tyson, Steve SR Kutztown 15.35m 50-04.50
6 Dinnall, Tappah FR Shippensburg 15.22m 49-11.25
7 Wall, Sam FR Kutztown 15.02m 49-03.50
8 D'Arcy, Steve FR Shippensburg 14.95m 49-00.75
9 Dell, Brian SR Slippery Rock 14.92m 48-11.50
10 Wagner, Paul SO East Stroudsburg 14.06m 46-01.50
11 Henderson, Adam JR Shippensburg 14.05m 46-01.25
12 Rebuck, Jason SO Kutztown 13.55m 44-05.50

Event 32 Women Discus Throw
==========================================================================
9 to Finals
NCAA D2 Auto: A 47.60m
NCAA D2 Prov: P 43.00m
Name Year School Finals
==========================================================================
1 Pinter, Ashley FR Kutztown 42.20m 138-05
2 Gumby, Jakia JR Lock Haven 39.97m 131-02
3 Colwell, Gretchen SR Indiana (Pa.) 38.94m 127-09
4 Laws, Danielle FR East Stroudsburg 38.39m 125-11
5 Jackson, Liz SO West Chester 37.44m 122-10
6 Leonard, Alaina FR Lock Haven 36.52m 119-10
7 Szarzynski, Jenn SO Shippensburg 36.33m 119-02
8 Seymore, Noreen SO West Chester 35.77m 117-04
9 Goetter, Krysten SO Shippensburg 35.37m 116-00
10 Hughes, Michelle SR Kutztown 34.15m 112-00
11 Carothers, Emily SO East Stroudsburg 31.30m 102-08

Event 33 Men Pole Vault
==========================================================================
Starting HT: 4.05m Incre: 15 cm 5 Alive
NCAA D2 Auto: A 5.02m
NCAA D2 Prov: P 4.80m
Name Year School Finals
==========================================================================
1 Gallup, Matthew SO East Stroudsburg 5.10mA 16-08.75
2 Tray, Tim SR Slippery Rock 4.95mP 16-02.75
3 Litten, Troy SR Indiana (Pa.) 4.80mP 15-09.00
4 Graybill, Don SO Shippensburg 4.65m 15-03.00
4 Schneider, James SR Slippery Rock 4.65m 15-03.00
6 Ruskin, Graham SR Slippery Rock J4.65m 15-03.00
7 Petras, Jacob SR California (Pa.) 4.50m 14-09.00
8 Kravatz, Adam JR Millersville J4.50m 14-09.00
9 Rose, Mike JR Slippery Rock 4.35m 14-03.25
9 Bates, Charlie SR West Chester 4.35m 14-03.25
9 Rice, Alec SR Indiana (Pa.) 4.35m 14-03.25
9 Campolongo, Andrew FR Shippensburg 4.35m 14-03.25
13 Osmolenski, Jim FR Shippensburg 4.20m 13-09.25
14 McCauley, Ryan FR West Chester 4.05m 13-03.50
14 Feeney, Colin SO East Stroudsburg 4.05m 13-03.50
14 Delany, Mike SR West Chester 4.05m 13-03.50

Event 34 Women Triple Jump
===============================================================================
9 to Finals
NCAA D2 Auto: A 12.25m
NCAA D2 Prov: P 11.60m
Name Year School Finals Wind
===============================================================================
1 Miller, Malika FR Lock Haven 11.52m +0.0 37-09.50
2 Bond, Serena SO Slippery Rock 11.42m +0.0 37-05.75
3 Kress, Diane JR Clarion 11.41m +0.0 37-05.25
4 Newhart, Rebekah FR Shippensburg 11.20m +0.0 36-09.00
5 Carito, Trina SO East Stroudsburg 11.19m +0.0 36-08.50
6 Warren, Kristie JR Lock Haven 11.15m +0.0 36-07.00
7 Good, Karen JR Shippensburg 11.06m +0.0 36-03.50
8 Foster, Katie SO Mansfield 11.01m +0.0 36-01.50
9 Iglesias, Nashanti FR East Stroudsburg 10.77m +0.0 35-04.00
10 Snider, Cassie SO Lock Haven J10.77m +0.0 35-04.00
11 Briggs, Alexis FR Shippensburg 10.63m +0.0 34-10.50
12 Mayer, Lynn FR East Stroudsburg 10.47m +0.0 34-04.25
13 Foye, Brittany FR West Chester 10.39m +0.0 34-01.25
14 Tepsic, Liz FR Indiana (Pa.) 9.90m +0.0 32-05.75

Event 35 Women 5000 Meter Run
================================================================
NCAA D2 Auto: A 17:11.00
NCAA D2 Prov: P 17:45.00
Name Year School Finals
================================================================
1 Harpp, Jen SO Slippery Rock 17:41.13P
2 Kellock, Andrea SO Bloomsburg 17:43.33P
3 Williams, Stephanie SR Kutztown 17:49.15
4 Wright, Jaime JR Slippery Rock 18:03.54
5 Cupido, Kristin FR Kutztown 18:06.26
6 Schwing, Beth JR Bloomsburg 18:11.05
7 Hackenberg, Amber SR Bloomsburg 18:20.67
8 Shuck, Ashley SO Bloomsburg 18:24.53
9 Meling, Erika FR Lock Haven 18:31.93
10 Jones, Samantha JR Shippensburg 18:44.79
11 Mulvey, Samantha FR Millersville 18:54.66
12 Prufer, Brigid FR West Chester 19:07.39
13 Leddy, Jessica JR Millersville 19:13.53
14 Scheller, Lindsey SO Indiana (Pa.) 19:19.55
15 Horn, Amber SR East Stroudsburg 19:23.90

Event 36 Women 3000 Meter Steeplechase
================================================================
Due to the IUP Track Steelpechase Waterjump Layout is Opposite
Event was Handed Timed
NCAA D2 Auto: A 11:00.00
NCAA D2 Prov: P 11:27.00
Name Year School Finals
================================================================
1 Weiss, Raissa SR Slippery Rock 11:18.5hP
2 Stockard, Stacie JR Indiana (Pa.) 11:32.2h
3 Pasquarella, Niki SO East Stroudsburg 11:34.3h
4 Zuver, Brittany SO Millersville 11:34.5h
5 Reimer, Christina FR Kutztown 11:36.1h
6 Kane, Mary FR Shippensburg 11:57.5h
7 Smith, Kim SR Slippery Rock 12:03.0h
8 Fritchman, Megan SR West Chester 12:09.6h
9 Primer, Irene FR Mansfield 12:11.4h
10 Edwards, Brenae FR Mansfield 12:16.6h
11 Dell, Hailey JR Kutztown 12:18.3h
12 Danner, Bridget SR Shippensburg 12:20.1h
13 Pace, Jennifer JR Slippery Rock 12:25.5h
14 Ostroski, Rachel SO East Stroudsburg 12:37.9h

Event 37 Men 3000 Meter Steeplechase
================================================================
Waterjump Layout Opposite
Event was Handtimed
NCAA D2 Auto: A 9:07.00
NCAA D2 Prov: P 9:26.00
Name Year School Finals
================================================================
1 Beegle, Bryan FR Shippensburg 9:21.9hP
2 Hilton, Nick FR Lock Haven 9:31.1h
3 Lantinen, Chris SO Edinboro 9:34.9h
4 Field, Dan SR Edinboro 9:41.0h
5 Gaudet, Matt SR Indiana (Pa.) 9:44.8h
6 Boyer, James SO Millersville 9:45.4h
7 Geddis, Chris SR Slippery Rock 9:47.6h
8 Weir, Kyle JR East Stroudsburg 9:48.2h
9 Zadroga, Chris FR East Stroudsburg 9:51.7h
10 Bluman, Matt SR Slippery Rock 9:58.3h
11 Reger, Eric JR California (Pa.) 10:01.4h
12 Dustin, Kevin JR Slippery Rock 10:04.1h
13 Stockley, Jimmy JR Bloomsburg 10:07.5h
14 Sitler, Jake FR Shippensburg 10:12.8h

Event 38 Women 1500 Meter Run
================================================================
NCAA D2 Auto: A 4:31.00
NCAA D2 Prov: P 4:42.00
Name Year School Finals
================================================================
1 Jennings, Priscilla JR Millersville 4:40.08P
2 Dell, Mary SO Shippensburg 4:41.85P
3 Huber, Abigail FR Shippensburg 4:43.47
4 Newell, Maureen JR Indiana (Pa.) 4:45.58
5 Brown, Keri FR Kutztown 4:45.87
6 Mucho, Laura JR Slippery Rock 4:48.75
7 Smathers, Molly SO Clarion 4:52.28
8 Hull, Rachel SO Millersville 4:52.79
9 Hubbard, Julia SO Slippery Rock 4:55.14
10 Nickel, Lisa SO Clarion 4:58.99
11 Watson, Maureen SO Kutztown 4:59.82
12 McCollum, Jamie FR Shippensburg 5:03.41

Event 39 Men 1500 Meter Run
================================================================
NCAA D2 Auto: A 3:49.00
NCAA D2 Prov: P 3:53.50
Name Year School Finals
================================================================
1 Pinto, Iuri SR East Stroudsburg 3:52.69P
2 Neyhart, Joshua SO Shippensburg 3:53.82
3 Pomerantz, Brandon SO Lock Haven 3:54.78
4 Hahn, Ben FR Edinboro 3:56.94
5 Brady, Jeremy SO Shippensburg 3:57.75
6 Moravec, Ryan SR California (Pa.) 3:58.99
7 Langdale, Matt SO West Chester 4:00.06
8 Thompson, Stephen JR Shippensburg 4:00.82
9 Stoltz, John-Mark SO Mansfield 4:01.84
10 Gelety, Matt FR Shippensburg 4:04.09
11 Doyle, Ryan SO East Stroudsburg 4:04.73
12 Butler, Andrew SR Millersville 4:09.28

Event 40 Men 5000 Meter Run
================================================================
NCAA D2 Auto: A 14:10.00
NCAA D2 Prov: P 14:45.00
Name Year School Finals
================================================================
1 Blood, Ryan SR Lock Haven 14:19.80P
2 Weiss, Jeff JR Slippery Rock 14:23.04P
3 Reagan, Pat JR Slippery Rock 14:41.27P
4 Beegle, Bryan FR Shippensburg 15:11.44
5 Pinto, Iuri SR East Stroudsburg 15:19.24
6 Yeatts, Jed SO Lock Haven 15:19.59
7 Gracey, Dillon SO Shippensburg 15:22.62
8 Getz, Tim FR Lock Haven 15:28.64
9 Litvinov, Mikhail JR Bloomsburg 15:34.97
10 Pomerantz, Brandon SO Lock Haven 15:41.87
11 Brenner, Eric SO Edinboro 15:45.62
12 Geddis, Chris SR Slippery Rock 15:49.58
13 Stetler, Sean FR Shippensburg 16:04.68
14 Leonard, Jason FR Slippery Rock 17:05.45

Event 41 Women 3000 Meter Run
================================================================
NCAA D2 Auto: A 9:40.00
NCAA D2 Prov: P 10:15.00
Name Year School Finals
================================================================
1 Jennings, Priscilla JR Millersville 10:19.13
2 Kellock, Andrea SO Bloomsburg 10:20.50
3 Frey, Kathleen FR Shippensburg 10:24.15
4 Harpp, Jen SO Slippery Rock 10:26.10
5 Williams, Stephanie SR Kutztown 10:28.41
6 Schwing, Beth JR Bloomsburg 10:29.96
7 Burnick, Crystal FR Slippery Rock 10:31.36
8 Cupido, Kristin FR Kutztown 10:40.41
9 Jones, Samantha JR Shippensburg 10:43.69
10 Wright, Jaime JR Slippery Rock 10:44.27
11 Scheller, Lindsey SO Indiana (Pa.) 10:49.40
12 Shuck, Ashley SO Bloomsburg 10:51.48
13 Zuver, Brittany SO Millersville 10:52.56
14 Kanach, Brittney FR California (Pa.) 10:53.80
15 Beringer, Kristine SO Edinboro 10:58.29
16 Pasquarella, Niki SO East Stroudsburg 11:09.63
17 Mulvey, Samantha FR Millersville 11:15.25
18 Leddy, Jessica JR Millersville 11:17.49

Event 42 Women 4x400 Meter Relay
===================================================================
NCAA D2 Auto: A 3:42.00
NCAA D2 Prov: P 3:52.00
School Finals H#
===================================================================
1 Slippery Rock 'A' 3:50.71P 2
1) Cochran, Lacey JR 2) Smith, Allison FR
3) Seigworth, Amanda FR 4) Sackin, Jessica SO
2 Shippensburg 'A' 3:52.27 2
1) Dell, Mary SO 2) Hare, Shannon SO
3) Hess, Erica FR 4) Henzy, Laura FR
3 East Stroudsburg 'A' 3:53.19 2
1) Carito, Trina SO 2) Doyle, Katherine JR
3) Johnson, Jasmine FR 4) Mackey, Brittiny FR
4 California (Pa.) 'A' 3:53.40 2
1) Jarjisian, Heather SR 2) Urban, Holly SR
3) Testa, Monique FR 4) Malay, Danielle SR
5 Kutztown 'A' 3:56.26 2
1) Spangenberg, Heather SO 2) Horstmann, Joanna JR
3) Deller, Laura SR 4) Colburn, Katie FR
6 Lock Haven 'A' 3:57.84 2
1) Wolf, Meagan SO 2) Douma, Alyssa JR
3) Simms, Shala JR 4) Snider, Cassie SO
7 Clarion 'A' 4:02.45 2
1) Ehrensberger, Kate JR 2) Miller, Jamie JR
3) Smathers, Molly SO 4) Maloney, Jamie SO
8 West Chester 'A' 4:04.67 1
1) Woodruff, Brigette JR 2) Wentz, Melinda SO
3) Murphy, Shannon SO 4) Wetherhold, Ashley SO
9 Millersville 'A' 4:08.32 1
1) Yanora, Brittany SO 2) Geesey, Krysty SO
3) Hull, Rachel SO 4) Majka, Maggie FR
10 Mansfield 'A' 4:10.19 2
1) Brumfield, Katrina SR 2) Ferguson, Erica SO
3) Kelly, Ryan FR 4) Toter, Jenelle FR
11 Cheyney 'A' 4:12.79 1
1) Johnson, Shaina JR 2) Cayo, Isabelle SO
3) Harris, Janet SO 4) Anderson, Georgia SO
12 Indiana (Pa.) 'A' 4:21.04 1
1) Doran, Abbey JR 2) Phillips, Alisa FR
3) Long, Angela FR 4) Tepsic, Liz FR

Event 43 Men 4x400 Meter Relay
===================================================================
NCAA D2 Auto: A 3:10.00
NCAA D2 Prov: P 3:14.40
School Finals H#
===================================================================
1 California (Pa.) 'A' 3:12.11P 2
1) Rager, Bradley SR 2) Ehrensberger, Frank SO
3) Baker, CJ FR 4) Williams, Dadre JR
2 Lock Haven 'A' 3:13.43P 2
1) Coberly, Nick FR 2) Rios, Anthony SO
3) Wilkinson, Shawn SO 4) Edelman, Chris SO
3 Cheyney 'A' 3:13.70P 2
1) Davis, Derrick SO 2) Wesley, Cyrus SR
3) Graham, Negus SO 4) Vallery, James SO
4 East Stroudsburg 'A' 3:16.27 2
1) Kiser, Edward SO 2) Pammer, Greg FR
3) Prudente, Tony SR 4) Reddick, Chris SO
5 Kutztown 'A' 3:16.70 2
1) Dixon, Kendel JR 2) Redley, Kurt SR
3) Gibbs, Justin SR 4) Hixson, Steve SR
6 West Chester 'A' 3:17.80 2
1) Eaton, Jarret FR 2) Espenshade, Craig FR
3) Hammond, Eric JR 4) Swetra, Adam JR
7 Mansfield 'A' 3:22.36 1
1) Eck, Joe SO 2) Falcone, Bryan JR
3) Garcia, Victor JR 4) Sanford, Dave SR
8 Edinboro 'A' 3:22.71 1
1) Kucewicz, Jon FR 2) Borst, Jason FR
3) Brown, George FR 4) Cannata, Phil SO
9 Millersville 'A' 3:23.74 1
1) Butler, Andrew SR 2) Kleinhaus, Evan SR
3) Bass, Derrick SO 4) Reyes, Kelvin SR
10 Shippensburg 'A' 3:27.20 2
1) Baker, Eric SR 2) Wilson, James JR
3) Wagner, Joe JR 4) James, Jamal SR
11 Slippery Rock 'A' 3:27.71 2
1) Shadeck, Nate SR 2) Debardelaben, Jeren FR
3) Fortunato, Gabe JR 4) Rector, Phil SO

Women - Team Rankings - 22 Events Scored
===============================================================================
1) Slippery Rock 203.50 2) Lock Haven 111
3) Shippensburg 107.50 4) Kutztown 96
5) East Stroudsburg 71.50 6) West Chester 65
7) Indiana (Pa.) 40 8) California (Pa.) 37.50
9) Millersville 36 10) Clarion 34
11) Bloomsburg 27 12) Edinboro 16
13) Mansfield 12

Men - Team Rankings - 21 Events Scored
===============================================================================
1) Slippery Rock 124.50 2) Lock Haven 108
3) Shippensburg 101.50 4) Kutztown 92
5) East Stroudsburg 89 6) California (Pa.) 79
7) Indiana (Pa.) 61 8) Cheyney 42
9) West Chester 40 10) Edinboro 38
11) Mansfield 30 12) Millersville 12