Release Date: 4/20/08
For Immediate Release: Garcia, Gray win events at CTC Championships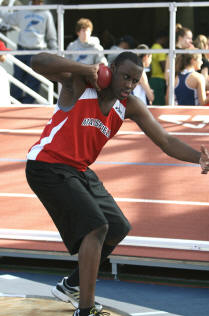 DeSales- Victor Garcia, Mike Gray and Chris Cummings each won events for the men's track and field team while Anine Stanley won the racewalk and Katie Foster picked up two second places to lead the women's team at the CTC championships at DeSales University this weekend.
Garcia won the 800 with a time of 1:57.34 just beating Dave Sanford who finished second with a time of 1:57.97 while Gray won the discus (47.13m, 154-07). Gray also finished fourth in the hammer with a throw of 41.26m or 135-04.
Jon-Mark Stoltz (4:04.74) and Clarrissa Correll (5:02.95) each finished in second place in the 1500 meter run while Garcia finished second in the 400 (50.57) and Gray finished second in shot put (51.01m, 49-03) respectively.
Katrina Brumfield finished second place in the high jump (1.60m, 5-3) while Foster finished fifth (1.55m, 5-1). Brumfield also competed in the triple jump finishing in sixth with 10.29m, 33-9.25. Foster also finished second in the long jump (5.11m, 16-9.25) and second in the triple jump (11.16m, 36-7.5). Erica Ferguson finished sixth in the long jump (4.95m, 16-3).
Irene Primmer finished in second place in the steeplechase with a time of 12:10.27. The time qualified her for the PSAC championships. Stanley won the 2000 racewalk with a time of 15:23.50 while Chelsea Conway finished in third (15:49) followed by Sarah Groat (16.40.2) and Michelle Clarke (17:23.3).
Brenae Edwards finished seventh in the 5000 meter run with a time of 19:22.71 while Jessica Wagner scored in the 1500 finishing in eighth place with a time of 5:19.03.
Jess Allyn finished third in the 400 (1:01.94) while Ferguson finished seventh (1:02.66). The 4x1 relay team of Janelle Toter, Ryan Kelly, Ferguson and Amanda Fedish finished in third and the 4x8 relay team of Sarah Pinkowski, Lindzie Foster, Jess Wagner and Correll also finished in third place.
Kelly finished fourth in the 800 meter run (2:28.34) followed by Lindzie Foster (2:28.56). Ferguson scored in the 200 meter with an eighth place finish (26.63). Brumfield (12.92) came in fourth in the 100 meter and Toter (13.24) and Fedish (13.53) finished sixth and seventh.
In the hurdles, Abbie Waltz finished in sixth place for the 100 meter hurdles with a time of 17.25 and finished seventh in the 400 meter hurdles (1:11.45). Kelly also ran the 400 meter hurdles and earned an eighth place finish with a time of 1:11.56.
Pole vaulters Abbie Gaiotti (2.95m, 9-8)and Caitlin Morgan (2.80m, 9-2.25) finished in seventh and eighth respectively and both qualified for PSAC's. Jillian Butters scored in the javelin with a sixth place finish and a throw of 29.18m 9(5-09).
Cummings won the 10000 meter run with a time of 32:45.9 while Stoltz (16:05.88) and Chris Bogenschutz (16:07.85) ran the 5000 meter and placed fifth and sixth. Bogenschutz also finished sixth in the 3000 meter steeplechase with a time of 10:15.43.
Ryan Detwiler competed in the high jump placing third (1.85m, 6-0.75)
The men's 4x8 relay team of Sanford, Duke Opdyke, Sean Vollenweider and Garcia also finished in third.