Release Date: 1/19/08
For Immediate Release: Gray, Kelly pick up second place finishes at Slippery Rock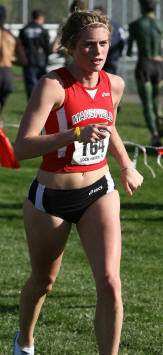 Slippery Rock- Mike Gray threw a season best 14.61 meters in the shot put and freshman Ryan Kelly finished second in the women's 400 as Mansfield took just freshman and sophomores to the PSAC west meet at Slippery Rock on Saturday.
"The meet is mandated by the athletic directors that we have to go to so we took the young kids and they did well," head coach Mike Rohl said.
In the mile run, freshmen Joe Stanek finished fifth while Sean Vollenweider finished right behind him in sixth while Chris Bogenschutz finished tenth.
Bryant Rager took fifth place in the triple jump with a jump of 11.59 while Andrew Licwinko ran a personal best of 9.10 seconds in the 55 meter hurdles.
Phil Risser finished in tenth place in the shot put with a throw of 10.63
For the women, Erica Ferguson and Lindzie Foster finished in seventh and eighth place respectively in the 800 while Jessica Allyn finished ninth in the 400.
Anastacia Canfield qualified for the conference meet in the high jump with a jump of four feet eleven inches.
Freshmen Abby Gaiotti and Amy Dodson competed in the pole vault with a jump of 2.44 meters.
Abbie Waltz ran a personal best time in the 55 meter hurdles with a time of 10.06.
The Mountaineers will travel to Penn State next weekend to compete in the National Invite.