Release Date: 12/07/08
For Immediate Release: Ryan Kelly and men's 4x4 relay team break school records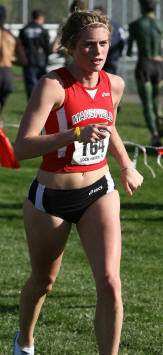 Kent State- Freshman Ryan Kelly and the 4x4 relay team of Joe Eck, Victor Garcia, Dave Sanford and Bryan Falcone broke school records at Kent State on Saturday afternoon.
Kelly broke the school record of 60.23 set in 2004 by coach Steph Cadwell. "I'm really happy about it," Cadwell said. "It means were improving as a program."
The 4x4 relay ran a 3:29.28 breaking the old mark of 3:29.68 set in 2005.
In the men's 800, Dave Sanford finished in second place with a time of 1:54.21 and Victor Garcia finished fifth with a time of 1:55.56. Garcia's time gives him the second fastest time in school history while Sanford already holds the school record.
Senior Chris Cummings finished in second place in the 3000 with a time of 8:38.68 while senior Katrina Brumfield finished fourth in the high jump with a jump of 5-4 1/2.