Release Date:12/1/07
For Immediate Release: Mansfield Indoor track team solid in first meet of season,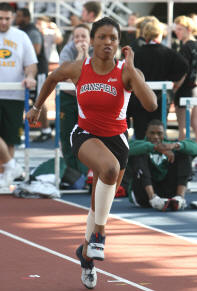 ITHACA, NY -- The Mansfield indoor track team had four provisional qualifiers at the first indoor track meet of the season. Amanda Fedish and Janelle Toter in the 60 meter dash, Katrina Brumfield in the high jump and Mike Gray in the shot put.
Running mostly against NCAA Division I schools, Fedish finished 27th in the 60 meter dash with a time of 8.33 seconds. Toter finished 33rd overall with a time of 8.39.
Gray threw the shot put 14.1m (45-11.75) to finish in fifth place.
Brumfield jumped five feet, three inches to finish in seventh place. " I'm happy with her development in the high jump, head coach Mike Rohl said. " She looked good for being so early in the season."
Brumfield finished in 21 in the 500 meters with a time of :44.46 while Fedish finished in 27 with a time of :45.14.
Freshman Ryan Kelly took fifth place in the 500 meters with a time of 1:20.15. Erica Ferguson finished in 15 with a time of 1:23.58, Brenae Edwards finished in 17th, Irene Primmer finished in 20th and Sarah Pinkowski finished in 24th.
The 4x8 relay team finished in fourth place with a time of 10:08.01
Abby Gaiotti finished in 11 place in the pole vault clearing the height of 2.70m(8-10.25).
Katie Foster had a long jump of 4.98m(16-04.25).
For the men, Victor Garcia finished in seventh place in the 500 meter dash with a time of 1:07.58 while Dave Sanford finished in 18th with a time of 1:09.56 and Blake Smith finished in 27th with a time of 1:11.02
John-Mark Stoltz finished in fifth place in the 3000 meter run with a time of 9:03.51. " I'm happy with the way he ran," Rohl said. "He was in the slower heat and lapped the entire field, he ran real well."
The 4x4 relay team of Smith, Garcia, Sanford and Bryan Falcone finished in seventh with a time of 3:31.83.