RELEASE DATE: 1/12/08
FOR IMMEDIATE RELEASE: Katrina Brumfield win high jump and men set record in sprint medley relay at Bucknellís Gulden Relays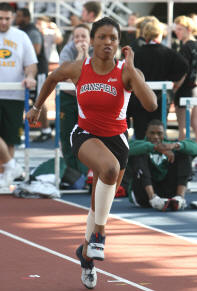 LEWISBURG Ė Katrina Brumfield won the high jump and the menís sprint relay team won and set a school record at Bucknell Universityís Gulden Relays Saturday.
Brumfield jumped 5-3 to capture the high jump besting 19 other competitors.
The menís sprint medley team come from two places back and ran down Bucknell in the stretch to win the race covering the 1600 meters in a time of 3:36.25. Victor Garcia ran the 400 with Joe Eck and Bryan Falcone running 200ís and Dave Sanford the anchor 800. Garcia, Eck, Falcone and Sanford came back in the 4 x 200 meter relay and set another school record with a time of 1:35.34.
The menís distance medley relay team of John-Mark Stoltz, Chris Bogenschultz, Sean Vollenweider and Joe Stanek finished second behind Bucknell with a time of 10:45.88.
The Mountaineers also had three race walkers, Michelle Clarke (7:56.57), Chelsea Conway (8:09.78) and Anine Stanley (8:15.23) all qualified for a berth in the Melrose Games.