Release Date: 3/2/08
For Immediate Release: Cummings, Sanford win events at PSAC conference meet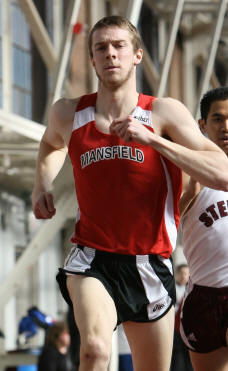 East Stroudsburg- Dave Sanford and Chris Cummings won individual events and the Mansfield track and field team broke three school records at the PSAC Indoor Championships this weekend at East Stroudsburg.
Sanford won the 800 with a time of 1:55.81 while Cummings won the mile with a time of 4:11.84 to earn All-Conference honors. "What Dave did was really special and a surprise, he ran a great race and had a great kick at the end," head coach Mike Rohl said. "Chris had a huge kick, he set a field house and meet record."
Cummings earned All-Conference and was also named CO-MVP of the meet along with Brad Rager of California and Jamal James of Shippensburg.
John-Mark Stoltz finished ninth in the mile with a time of 4:25.19
The DMR team of Dave Sanford, Bryan Falcone, Victor Garcia and Chris Cummings became the first relay team in Mansfield history to win first place in a relay event at the conference meet. They finished with a time of 10:05.50.
The 4x800 relay team of Chris Bogenschutz, Chris Cummings, Bryan Falcone and Victor Garcia broke the school record with a time of 7:58.99 to finish in fifth.
The women 4x400 relay team of Jessica Allyn, Katrina Brumfield, Erica Ferguson and Janelle Toter finished in sixth with a time of 4:06.34 while the men's team consisting of Joe Eck, Bryan Falcone, Sanford and Garcia broke the school record with a time of 3:27.23 to finish in ninth.
Mike Gray earned All-Conference honors with a school record breaking throw of 52-01.75. "Mike came up big with that throw," Rohl said. He was technically sounds and beat his personal best by two feet."
Brumfield took sixth in the high jump with a jump of 5-03.25 while Katie Foster finished 10 in the triple jump with a leap of 35-03.00
Our goal for the men was to score 40 points and finish at least seventh and that's what we did," Rohl said.