Release Date: 11/29/07
For Immediate: Experience, Leadership return for Indoor track team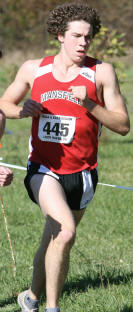 Mansfield- The menís and womenís indoor track team will have great senior leadership this season. On the menís side, senior captains are Dave Sanford(Mifflinville/Bloomsburg Univ.) and Chris Cummings( Mansfield/Mansfield).
The menís team will look to qualify for nationals and earn All-American status in the distance medley relay with the team of Cummings, Sanford, transfer Victor Garcia( Chambersburg/Mcalester) and junior captain Bryan Falcone( Horshham/Hatboro-Horsham).
Garcia is a transfer from Hutchinson Community College in Oklahoma has the range to compete in middle distance races from the 400 to 800 meters.
Sanford was a Pennsylvania State Athletic Conference runner-up last season and was a provisional qualifier in the 800.
Sophomore John-Mark Stoltz( DuBois/DuBois) returns after a solid freshman season and looks to contend for a national qualifying time.
The future of the distance programs is in the capable heads of the freshman foursome of Joe Stanek( Ashley/Hanover), Sean Vollenweider( Canadaigua,NY/Canadaugia) , Chris Bogenschutz( Eldred/Otto-Eldred), and Duke Opdyke( Troy/Troy).
Falcone will lead the sprinters and has looked very strong in practice thus far. The sprinters will be also be led by transfer Joe Eck( Williamsport/Jersey Shore) who will be a solid addition of the 4x400 meter relay team.
Sophomoreís Mike Gray( Elmira,NY/Horseheads) and Phil Risser( Coudersport/Coudersport) have a solid handle on the field events while John Mohl( Pottsville/Pottsville) has looked good in practice.
Jumping duties will be held down by freshman Bryant Rager( Milroy/Indian Valley) and sophomore Shane Chapman( Rome/Northeast Bradford).
Freshmen Andrew Licwinko( Phoenixville/Phoenixville), Mason Teribury( Gillett/Troy) and Buddy Winward (Robesonia/Cocalico) will fill the void in the hurdles.
The women will be coached by former Mansfield standout Steph Cadwell. This will be Cadwell's first season as head coach of the women's team.
The womenís team also has quality experienced returners. Leading the way is senior captain Katrina Brumfield( Chester Springs/Owen J. Roberts) who was a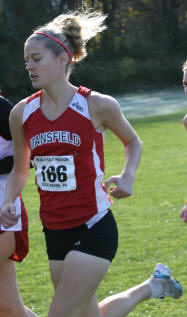 NCAA provisional qualifier last year in the high jump. The womenís team is also under the experienced leadership of senior captains Amanda Fedish( Binghamton,NY/Chenango Valley) and Sarah Pinkowski( Marcellus,NY/Marcellus).
Junior Sarah Groat( Penfield,NY/Penfield) is coming off an injury in the cross county season, but is back to full strength and in shape to lead a solid group of race walkers. Freshman Chelsea Conway( Rochester,NY/East Ridge) was a national high school qualifier in the race walk and freshman Michelle Clarke( Apalachin,NY/Owego) will be one of the top race walkers in the country.
Sophomore Katie Foster( Elmira,NY/Elmira Southside) is looking to have a breakout season in the pentathlon and hurdles.
Erica Ferguson( Yeadon/Yeadon) returns after a solid season as a sprinter. Ferguson has looked good in practice and is looking to improve from last year.
Christyna Cain( Brockport,NY/Brockport) and Jess Wagner( Cocheton Center,NY/Sullivan West) will look to build on strong freshman seasons. Wagner runs middle distance while Cain focuses on the longer distances.
Freshman Brenae Edwards(Hazleton/Hazleton) will look to carry a strong cross country season over to indoor track. Edwards will carry a big load for the distance team.
Fellow freshman Irene Primmer( Oneonta,NY/Oneonta) and Ryan Kelly(Verona,NY/Verona) will add depth to the middle distance team.
Freshmen Abby Gaiotti( Canton/Home School), Jenelle Toter( Sunbury/Line Mountain) and Abbie Waltz( Lancaster/Lancaster Catholic) will all have shot at qualifying for conference this season.
Rounding out the roster are Sam Phelan( Painted Post,NY/Addison Central) and Sarah Stewart( Rome/Northeast Bradford) who will be handling the throwing. This is the first year the roster has expanded to include women throwers on the team.
The team will travel to Cornell University on Saturday December 1 for their first meet of the season.