RELEASE DATE: 10/17/07
FOR IMMEDIATE RELEASE: Cummings second overall at Yellowjacket Invitational – Mansfield men finish three overall while women seventh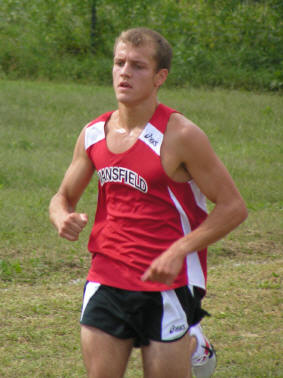 ROCHESTER,NY – Chris Cummings finished second overall and Josh Wooten eighth to lead the Mansfield University men's cross country team to a third place finish at the 13 team Yellowjacket Invitational at the University of Rochester Saturday afternoon.
Freshman Brenae Edwards and Clarissa Correll finished in the top 25 to pace the women's team to a seventh place finish.
Cumming continued his outstanding senior career being edged for the overall title by Ryan Lace of Allegheny College. Place finished the 8k course at Genesee Valley Park with a time of 25:17 with Cummings a couple of strides behind at 25:23.
Fellow seniors Josh Wooten and Dave Sanford keyed the Mountaineers efforts with Wooten finishing eighth overall (25:55) and Sanford 22nd (26:35). Freshman Chris Bogenshutz also had a strong performance finishing 28th (26:57) with Joe Staneck coming in 33rd (27:09) as Mansfield had less than a two minute spread between its top five runners.
Allegheny won the team competition with 28 points with Western Ontario finishing second at 52 points while Mansfield was third with 86.
Edwards continues to be the Mountaineers top female runner as just a freshman finishing the 5k course with a time of 19:42 to finish 20th out of 164 runners. Clarissa Correll had an outstanding afternoon coming in 25th overall with a time of 19:53.
Jessica Wagner was the Mountaineer third top runner finishing 31st at 20:03 to give Mansfield an impressive 20 second spread between its top four runners. Irene Primer round out the top five finishing 63rd at 20:57.