RELEASE DATE: 10/27/07
Men's Complete Results

Women's Complete Results
FOR IMMEDIATE RELEASE: Cummings third at PSAC Cross Country Championship Ė senior first runner in menís history to become four-time All-PSAC selection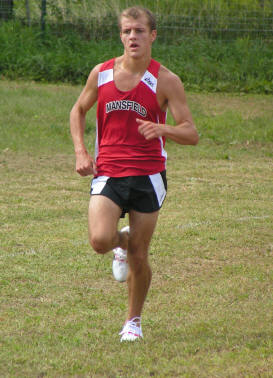 KUTZTOWN Ė On a course better suited for planting rice than running, Chris Cummings plodded where no other menís runner in Mansfield University has been by finishing third overall at the Pennsylvania State Athletic Conference (PSAC) Cross County Championship in a monsoon at Kutztown University Saturday.
"What an incredible legacy Chris has established," said head coach Mike Rohl. "There simply has never been another like him at Mansfield."
Cummings finished six seconds behind race winner Matt Bluman of Slippery Rock with a time of 26:24.50 in the 8k course.
It marked the first time in school history a male runner has earned All-PSAC honors at the cross country championship. It was also the highest finish in school history.
Cummings spearhead the Mansfield menís seventh place overall team finish with 78 points. Edinboro won the overall team title with 17 points.
Fellow senior Josh Wooten also earned All-PSAC honors by finishing 11th overall (26:50.70) making Mansfield one of just four teams to have multiple All-PSAC finishers.
John-Mark Stoltz was the Mountaineers third runner finishing 49 overall (28:28.60) with freshman Duke Opdyke 64th (28:53.60). Dave Sanford was 83rd (29:19.20) and freshman Joe Stanek 84th (29:22.70).
The Mountaineer women finished 12 overall in the 14 team championship with freshman Brenae Edwards placing 25th overall (25:23.70). Junior Clarissa Correll was the second Mansfield runner finishing 57th overall (26:20.40) with Jess Wagner coming in 74th (26:53.00).
Freshman Ryan Kelly was 78th (27:13.60) and fellow freshman Irene Primmer 83rd (27:21.50).
Mansfield will compete at the NCAA Regional next Saturday in Lock Haven.