Rohl Pleased by Preseason Effort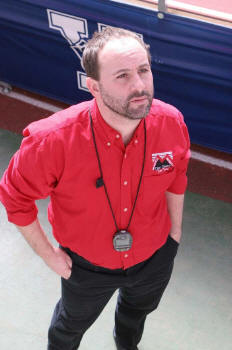 Colton Point State Park -- Rain and cool weather greeted the men's and women's cross-country teams Monday morning for their annual preseason run up Colton Point State Park road.
For the past four years the incoming athletes have been challenged by the 1200 foot climb that leads to one of the most scenic views in the eastern United States.
"I have found that this run is a very accurate indicator of fitness for our runners," said seventh year head coach Michael Rohl. "More importantly it tells me about their toughness. We have been keeping records on this course so we have a good idea what the times mean to real life racing and right now I'm excited after seeing the results."
Leading the way for the men was senior Chris Cummings (Mansfield/Mansfield) with a time of 25:17 followed by returning senior Josh Wooten (West Henrietta,NY/Rush-Henrietta) . Joe Stanek (Ashley/Hanover) was the outstanding freshman up the mountain setting a freshman record in 26:43.
With the return of Cummings and Wooten along with Dave Sanford (Mifflinville), the Mountaineers top runner in 2006, and John-Mark Stoltz (DuBois/DuBois) the Mountaineer men's team could be one of the top teams in the PSAC this season.
Freshman Brenae Edwards (Hazleton/Hazleton) impressed the coaching staff with her solo run of 29:01, which was also a freshman record. Clarissa Correll (Mansfield/Mansfield) showed her preseason fitness with a time of 30:30. Senior Sarah Pinkowski (Marcellus,NY/Marcellus) and sophomore Christyna Cain (Brockport,NY/Brockport) were third and fourth respectively.
In all seven men and five women broke into the top 10 all-time performers up the mountain.
Both teams open the 2007 season when they travel to the Oneonta Early Bird Invitational on Sept. 1.
King of the Mountain Time Trial up Colton Point 10/20/07
Chris Cummings 25:17, Josh Wooten 25:27, Dave Sanford 26:01, Joe Stanek 26:43, John-Mark Stoltz 26:50, Bret Kilefner 27:11, Duke Opdyke 27:21, Sean Vollenweider 27:37, Chris Bogenschutz 28:57,Scott Wilt 30:18
Brenae Edwards 29:01, Clarissa Correll 30:30, Sarah Pinkowski 31:35, Christyna Cain 32:07, Irene Primer 32:09, Jess Wagner 32:15, Michelle Clark 32:21, Ryan Kelley 32:51, Tricia Learn 33:05