RELEASE DATE: 9/15/07
FOR IMMEDIATE RELEASE: Mansfield men and women post strong showing at Midwest Collegiate Invitational in Wisconsin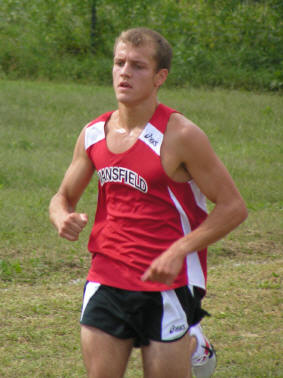 PARKSIDE, WI – Chris Cummings finished 16th overall to lead the Mansfield University men's cross-country team to a 8th place overall finish and freshman Brenae Edwards was 45th overall to help the women finish 11th overall at the Midwest Collegiate Invitational Saturday afternoon at the University of Wisconsin at Parkside.
"Both teams ran very well in against some very, very good competition," said head coach Mike Rohl. "The men were solid and the women all posted personal bests. You have got to be pleased with that."
The Mountaineer men had 208 points in the 20 team event. Edinboro was first with 74 points followed by Azusa Pacific with 85.
Cummings ran a solid race finishing with a time of 25:45 over the 8k course and he had strong support from his teammates as the top seven Mansfield runners finished within two minutes of each other.
Fellow senior Josh Wooten was 27th overall (26:15) with senior Dave Sanford coming in 57th at 26:47. Freshman Chris Bogenshutz posted a 27:06 time with fellow freshman Duke Opdyke coming in 77th at 27:17. Sophomore John-Mark Stoltz was a step behind Opdyke in 78th place (27:19) and freshman Joe Stanek was 92nd (27:38).
263 runners finished the race.
The women were 11th in a field of 21 teams with 366 points. Marquette won the team title with 42 points.
Edwards finished the 5k course in 19:26 with the top five Mountaineer runners all finishing within a minute of each other. Clarissa Correll was 99th overall at 20:12 with Jess Wagner finishing right behind her (100th, 20:14). Freshman Irene Primer was six places back at 20:20 with sophomore Christyna Cain placing 123 with a time of 20:45.
Sarah Pinkowski was 136th (20:54) with Tricia Learn 151st (21:19) and Michele Clark 177th (22:05).
255 runners finished the race.
Mansfield will travel to Salisbury, MD for the Tidewater Invitational in two weeks.