RELEASE DATE: 9/1/07
FOR IMMEDIATE RELEASE: Mansfield Men's and women's cross country team open 2007 season with wins at Oneonta Early Bird Invitational -- Cummings wins men's race and freshman Brenae Edwards wins women's event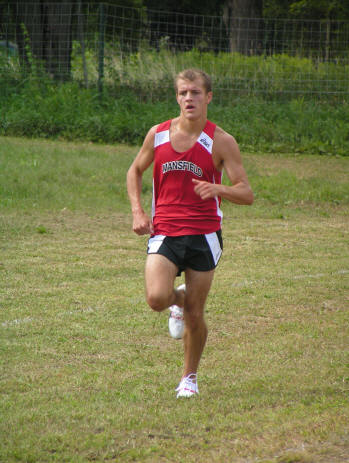 ONEONTA, NY -- Senior Chris Cummings took first in the men's race while freshman Brenae Edwards won the women's race to lead the Mansfield University men's and women's cross country teams to dominating wins at the season opening Oneonta Early Bird Invitational Saturday.
"It couldn't have been a better way to start the season," said head coach Mike Rohl. "We had great senior leadership and strong freshmen performances. The top five men had a gap of 50 seconds between them and the women had just a 1:15 gap between the top eight. That's pretty exciting for the first time out."
Behind Cummings, the Mountaineer men dominated the race with eight runners finishing in the top ten. Mansfield has 16 team points while SUNY-Oneonta finished second with 47 points. Hartwick was third at 90 points followed by Cazenovia at 101.
Cummings finished the 6k course with a winning time of 19:31 with fellow seniors Josh Wooten (19:47) and Dave Sanford (19:51) taking third and fourth respectively. Freshman Joe Stanek was a fifth overall at 20:04 with sophomore John-Mark Stoltz finishing seventh (20:23). Freshman Bret Kilfner was eighth (20:26) with fellow freshman Chris Bogenschutz rounding out Mansfield's top seven with a 10th place overall finish (20:40). Freshman Sean Vollenweider was 12th overall (20:53) and freshman George Updyke 13th (21:01).
The Mountaineer women finished with 24 points with SUNY-Oneonta coming in second with 44 points and Harwich third at 72 points.
Freshman Brenae Edwards won in her first-ever collegiate race finishing the 4.5K course in a time of 17:51. Junior Clarissa Correll was fifth overall (18:34) while freshman Irene Primmer finished sixth. Senior Sarah Pinkowski was eighth (18:58) followed by freshman Ryan Kelly who finished 10th with a time of 19:06. Sophomore Christyna Cain was 11th overall (19:08) with junior Tricia Learn rounding out the Mountaineers top seven with a 12th place overall finish (19:10).
Also running well in their first collegiate competition with freshmen Michelle Clarke (13th, 19:48), Samantha Goldthwait (23rd, 21:58) and Chelsea Conway (25th, 23:00).
The Mountaineers are in action again on Sept. 15, when they travel to Wisconsin - Parkside for the Mid-West Collegiate Invitational.