RELEASE DATE: 11/3/07
FOR IMMEDIATE RELEASE: Glorious day for cross country at NCAA Division II East Regional – Cummings earns trip to National Championship with third place finish – Edwards and Correll lead women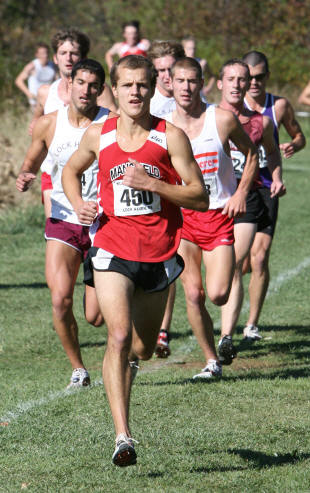 LOCK HAVEN -- Senior Chris Cummings (Mansfield/Mansfield) finished third overall at the NCAA Division II Cross Country East Regional Championship Saturday afternoon at Lock Haven earning a trip to the NCAA Division II National Championship in two weeks in Missouri.
Senior teammate Josh Wooten (West Henrietta,NY/Rush-Henrietta) also earned All-NCAA East Regional honors finishing eighth overall.
It was a glorious day for both the Mansfield University men's and women's team with the men finishing fifth out of 25 teams for the highest finish in school history. The women rebounded from a disappointing finish last week in the PSAC Championship to finish 12th out of 24 teams behind freshman Brenae Edwards (Hazleton/Hazleton) and junior Clarissa Correll (Mansfield/Mansfield).
"It was an incredible day for the cross country program at Mansfield University," said a visibly emotional head coach Mike Rohl after the men's event. "Each one of the men ran their best 10k time of the season and the women rebounded from a disappointing finish performance last week. It was just a great, great, day."
Cummings third place finish was the highest finish ever is school history in a men's regional championship. He covered the 10k course in a time of 31:11 and is the only male runner in school history to earn a trip to the NCAA Championship in cross country, and indoor and outdoor track.
"You see true greatness when you watch Chris run," said Rohl. "What he's accomplished during his career is beyond exceptional. I don't know if we can ever find someone else like him."
As impressive as Cummings feat was, it was the performance of fellow senior Josh Wooten that provided the most drama on the day. Wooten missed by one place earning a trip the National Championship when he finished eighth overall with a time of 31:30.
"Josh's goal all year was to earn a trip to the national championship," reported Rohl. "It's hard to be disappointed when you finish eighth overall at a regional championship, but he came so close to achieving his dream that your heart has to go out to him."
Senior Dave Sanford (Mifflinville/Mifflinville) also had a strong race finishing 43rd overall at 33:12 but equally as impressive was the performance of the Mountaineers four freshmen. Joe Stanek (Ashley/Hanover) was 46th (33:21) while Duke Opdyke (Troy/Troy) 67th (33:41) and Sean Vollenweider(Canandaigua,NY/Canandaigua) 95th (34:53). John-Mark Stoltz (DuBois/DuBois) was 101st (35:07).
172 runners finished the course with Edinboro winning the men's competition with a score of 47 followed by Slippery Rock at 58. Mansfield was fifth with 162.
The women set the mood for the day with their surprising strong finish in the day's first race. Edwards, who has been the Mountaineers top finisher in every race this season, was 30th overall of the 6k course with a time of 22:49. She finished just two strides ahead of Correll who was 31st at 22:50. Sophomore Jess Wagner (Cochecton Center,NY/Sullivan West) was 71st (23:42) with freshman Irene Primmer (Oneonta,NY/Oneonta) (101st – 24:35), senior Sarah Pinkowski (Marcellus,NY/Marcellus) (109th – 24:39) and freshman Ryan Kelly (Verona,NY/Verona) (114th – 24:56) all running well.
177 runners finished the women's competition which was won by Bloomsburg with 62 points followed by Edinboro at 81 points. Mansfield was 12 with 328 points.