RELEASE DATE: 6/19/08
FOR IMMEDIATE RELEASE: Chris Cummings named to PSAC Spring Top Ten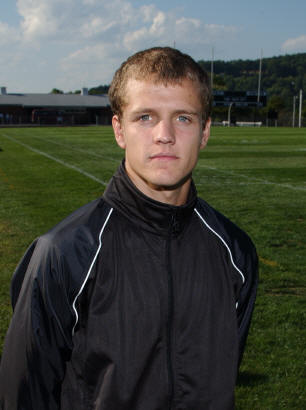 MANSFIELD Ė Mansfield University track standout Chris Cummings (Mansfield/Mansfield) has been named to the Pennsylvania State Athletic Conference (PSAC) Spring Top Ten Scholar-Athlete.
The PSAC Spring Top Ten recognizes the top five male and female student-athletes during the Fall, Winter and Spring sports season. Cummings, who also earned the prestigious honor for cross-country during the fall and indoor track during the winter season, was the only male student-athlete in the conference to be named to earn PSAC Top Ten honors in all three seasons.
To be a candidate for the Top Ten Awards, a student-athlete must have achieved a minimum of a 3.25 cumulative grade point average and must be a starter or key reserve with legitimate athletic credentials. Only Student-athletes from the spring sports season are eligible for the Spring Top Ten Awards. Those sports are: baseball, softball, womenís lacrosse, menís and women outdoor track & field, menís and womenís tennis, and golf.
Cummings, maintained a 4.0 average in graduate classes after graduating with 3.86 QPA in physics. The Mansfield native is the only student-athlete in the PSAC to earn All-American honors as well as PSAC Top Ten honors during each of the three seasons.
Cummings was an All-American in cross-country at the NCAA National Championships this past fall and repeated that honor when he finished second in the mile at the NCAA Division II National Indoor Track Championship in March. He completed the Triple Crown earning All-American honors with a fifth place finish at the NCAA Division II Outdoor Championship last month.
It marked a school-record fifth time Cummings has been selected as a PSAC Top Ten recipient.
Cummings is eligible for the PSACís Pete Nevins Male Scholar-Athlete of the Year. Results of that voting will be release in the near future.