RELEASE DATE: 1/28/08
FOR IMMEDIATE RELEASE: Chris Cummings Named PSAC Top Ten Fall Student-Athlete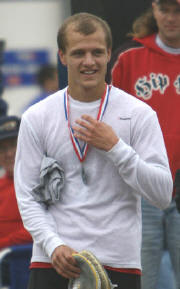 MANSFIELD Ė Mansfield University cross-country standout Chris Cummings (Mansfield/Mansfield) has been selected for the prestigious Pennsylvania State Athletic Conference (PSAC) Fall Top Ten Award.
The award recognizes the top ten scholar-athletes among the 14 PSAC institutions during the sports season. More than 1,500 student-athletes compete in Fall PSAC sports.
It marks the third time Cummings has been selected for the honor having been named a Winter and Spring PSAC Top Ten Award in 2005-06. It ties him with Charity (Learn) Walker for the most times a Mansfield student-athlete has been named to the PSAC Top Ten Award.
Cummings graduated this past May with a 3.86 grade point average in physics and has returned as a graduate student achieving a 4.0 in his first semester. He is a three-time PSAC Scholar-Athlete selection and in 2007, he received All-America honors, becoming Mansfield's first male runner to receive the honor after finishing 31st at the NCAA Divison II National Championships.
Cummings also became the first Mansfield track and field athlete to earn All-America status in indoor and outdoor track and cross country.
He also a six-time recipient of Mansfield's Athlete of the Year honors. This fall, Cummings finished in third place at the NCAA East Regional and finished in third at the PSAC meet to earn regional and PSAC honors.
The Top Ten Awards, selected by the PSACís sports information directors, recognize five female and five male student-athletes who distinguish themselves in the classroom as well as in the arena of competition. The conference designates Top Ten Award winners after each of the sports seasons: fall, winter and spring.
To be a candidate for the Top Ten Awards, a student-athlete must have achieved a minimum of a 3.25 cumulative grade point average and must be a starter or key reserve with legitimate athletic credentials. Only student-athletes from the fall sports season are eligible for the Fall Top Ten Awards. Those sports are: menís and womenís soccer, football, field hockey, womenís volleyball and menís and womenís cross country.
At the end of the academic year, the league announces the Scholar-Athlete Awards, which recognize student-athletes on all PSAC squads with 3.25 cumulative GPAs or better. Top Ten Award winners are eligible for the league's Pete Nevins Scholar-Athlete of the Year honors, given to one male and one female candidate at the end of the academic year.