RELEASE DATE: 2/28/08
FOR IMMEDIATE RELEASE: Mansfield University menís and womenís cross-country teams rank as 2nd and 3rd best NCAA Division II academic programs in the nation Ė both programs named USTFCCCA All-Academic Teams
f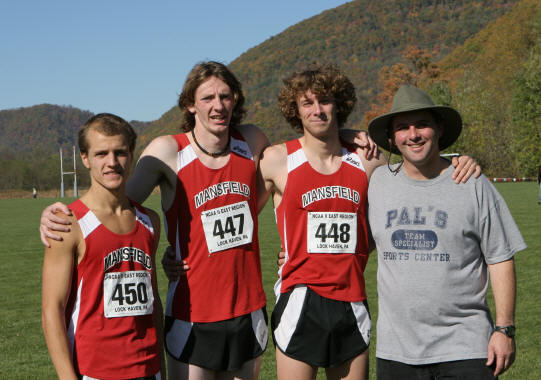 MANSFIELD Ė The Mansfield University menís and womenís cross country teams finished the year ranked as the 2nd and 3rd best academic cross country programs in the nation for the 2007 NCAA Division II cross country season in rankings compiled by the U.S. Track & Field and Cross Country Coaches Association (USTFCCCA).
ďA wonderful achievement for programs that pride themselves on academic and well as athletic excellence,Ē said Mansfield University President Dr. Maravene Loeschke. ďWe are very proud of these outstanding student-athletes and the dedication and commitment to success and leadership they display in their lives.Ē
The Mountaineer menís team repeated as a USTFCCCA All-Academic Team and finished second in the nation in Division II with a 3.62 team GPA (out of a possible 4.0). Limestone College edged out the Mountaineers for the top spot with a 3.63 team GPA. Also finishing in the top five were Augustana University (3.56), The College of Saint Rose (3.54) and Christian Brothers University (3.51).
To be eligible for the honor, teams must list all student-athletes whose names appear on the NCAA eligibility form and who have competed in 50 percent or more of the cross country competitions on the teamís schedule. Additionally, the team must compete at the NCAA Division II regional championships and have a team cumulate grade point average of 3.0 or higher.
In addition three Mountaineer menís runners Ė Chris Cummings (Mansfield/Mansfield), Dave Sanford (Mifflinville/Mifflinville) and Josh Wooten (West Henrietta,NY/Rush-Henrietta) were named to the 2007 NCAA Division II USTFCCCA menís All-Academic Team.
To qualify for the individual All-academic honors, the student-athlete must have completed 24 semester or 36 quarter hours and have a cumulative grade point average of 3.25 on a 4.0 scale. The student-athletes must also finish in the top 30 percent of individual participants at their respective regional cross country championships.
The Mountaineer womenís team also repeated as a USTFCCCA All-Academic Team and finished third in the nation in Division II with a 3.76 team GPA. Seattle Pacific University had the nationís top team GPA (3.80) followed by Gannon University (3.79), Mansfield, The University of Tampa (3.73) and Saginaw Valley (3.71).
Mike Rohl is in his seventh year as the head coach of the Mountaineer menís and womenís cross country program and is assisted by his wife Michelle.