Release Date: 11/17/07
For Immediate Release: Chris Cummings becomes first Mansfield runner to earn All-American honors in Cross Country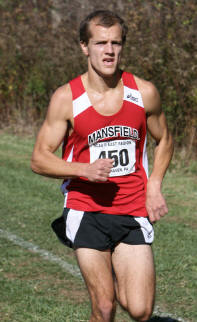 JOPLIN, MO - Senior Chris Cummings became the first Mansfield runner to earn All-American honors in cross country, indoor track and outdoor track with a 31ST place finish at the NCAA Division II championships at Missouri Southern State on Saturday morning.
Cummings finished the 10k race with a time of 31:27.2 to earn All-American.
"A dream come true," head coach Mike Rohl said. "Earning All-American at all three championships is a testiment of true greatness that only the best of the best ever achieve. That's a good description of Chris -- the best of the best."
"When we did the race plan I knew the race would start out fast and it did," Cummings said. "My plan was to stay in the top 60 and work my way up. It was a narrow course and it would be difficult to come up through the pack."
"I worked my way into the top 40 over the last few miles and realized that being able to finish as an All-American was a very real possibility," Cummings said. "I'm tired, but very pleased with the way I ran today and where I finished."