RELEASE DATE: 3/31/07
FOR IMMEDIATE RELEASE: Mounties Mike Gray dual winner at Jim Taylor Invitational at Susquehanna University – Dave Sanford wins 1500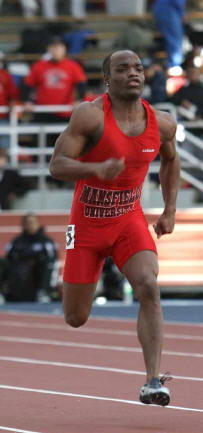 SELINSGROVE – Freshman Mike Gray continued his impressive performance by winning the discus and shot put at the Jim Taylor Invitational Track and Field Meet at Susquehanna University Saturday afternoon.
Gray won the discus with a toss of 150-11, more than six feet better than the next closest competitor. He followed that up by taking first in the shot put with a throw of 48-11.75 bettering the next best thrower by more than two feet. Gray also finished fourth in the triple jump with a 41-07 effort.
Dave Sanford won the 1500 with a time of 3:59.05 while Ricky Jones was second in the 100 meters at 11.43.
Chris Greene, in his first season in track, was fourth in the long jump (20-07) and fifth in the triple jump (40-10.50). Jameson Keeler was fourth in the javelin (175-09).