RELEASE DATE: 5/05/07
FOR IMMEDIATE RELEASE: Rachel Hall First Mountaineer Four Time All-PSAC -- Mansfield men and women both finish 11th overall at PSAC Track and Field Championship – Mike Gray sixth in shot and Clarissa Correll seventh in 1500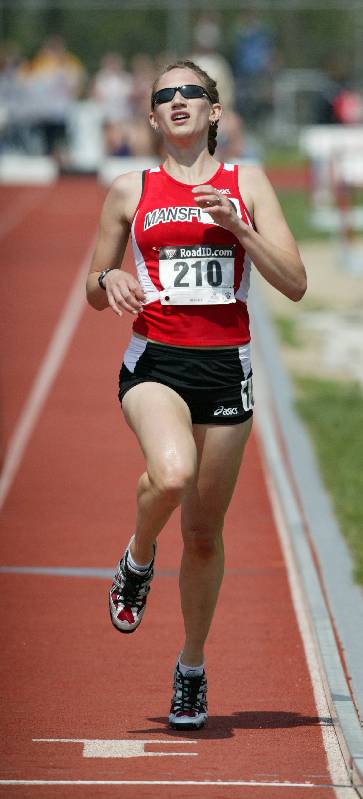 SHIPPENSBURG – Rachel Hall become first outdoor runner in school history to earn All-PSAC honors four times with a third place finish at the final day of the PSAC Outdoor Track and Field Championship Saturday afternoon.
Lock Haven edged out Shippensburg for the men's title 139-138 while Slippery Rock won the women's championship with 189. points. The Mansfield men scored 14 points while the women recorded 21 points.
"It's simply a wonder honor for a wonderful person," said head coach Mike Rohl. "Everybody remembers the first and Rachel is the first runner to ever earn All-PSAC honors in each of her four seasons. That says a lot about her and a lot about where this program is heading."
Also earning All-PSAC honors for the second straight year is senior Nicole Dann who finished fourth in the 1500 meters with a time of 4:40.79.
Freshman Mike Gray, who earned All-PSAC honors with a second place second place finish yesterday in the discus, was sixth in the shot put with a toss of 49' 5 ¾". Gray scored 11 of the Mountaineer men's 14 total team points.
Dave Sanford picked up the other three team points for the men with a 6th place finish in the 1500 meter at 3:54.04.
Sophomore Clarissa Correll, who has shown improvement through the season, earned team points by finishing seventh in the 1500 meters with a time of 4:49.60. It was Correll's best time of the season and the third best 1500 time in school history.
Although they don't earn team points, Amanda Fedish was 11th in the 100 meters (12:53)and Marisa Fronczkiewicz 13th in the 400 meters (1:00.72)
The women's 4 x 100 relay team of Katrina Brumfield, Erica Ferguson, Marisa Fronzckiewicz, Amanda Fedish was sixth in with a time of 49.69 while the 4 x 400 team of Brumfield, Ferguson, Fronzckiewcz and Dann finished ninth (4:02.17).