RELEASE DATE: 5/10/07
FOR IMMEDIATE RELEASE: Mike Gray wins discus and shot put at Allegheny College Gator Invitational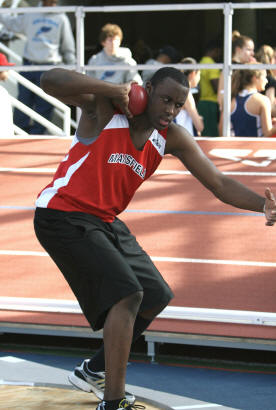 Meadville, PA – Freshman Mike Gray won the discus and the shop put and Kartina Brumfield was third in the high jump at the Allegheny College Gator Invitational Thursday afternoon in Meadville.
Gray, who was attempting to move up from 24th to the top 16 on the NCAA Division II performance list, threw a personal best of 49.28 meters in the discus to win the event. Although it was his best mark of the season, he failed to move up on the performance list. The top 16 throwers will advance to the NCAA Division II Outdoor Track and Field Championship.
Gray also won the shot put with a toss of 15.10 meters.
Katrina Brumfield was third overall in the women's high jump with a leap of 5-3.
Gray has one more chance to attempt to qualify for the national championship this Sunday in New York City.