RELEASE DATE: 5/24/07
FOR IMMEDIATE RELEASE: Dann's Career Ends at NCAA National Championships
MANSFIELD – Mountaineer senior standout Nicole Dann ended her outstanding career on Thursday afternoon when she competed in the preliminary round of the 1500 meter run at the NCAA National Championships in Charlotte, North Carolina.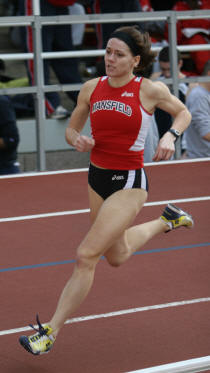 Dann was eliminated from contention with a 15th place finish in the prelims with a time of 4:49.29.
The outstanding senior leaves Mansfield as a four-time MU Presidential and PSAC Scholar Athlete whose accomplishments on the track and on the field hockey field have helped improve the Mountaineers standings in the PSAC.
Dann was the anchor to a stellar defense on the field hockey team this season helping the squad remain Nationally ranked the entire year.
On the track, Dann improved leaps and bounds over the last two seasons becoming one of the most feared middle distance runners in division II.
She leaves Mansfield with every middle distance record but one as she owns the 800, 1000, and mile records indoor and the 800 and 1500 records outdoor. She is also a part of both the indoor and outdoor 3200 relay records. Charity Learn holds the indoor 1500 record, the only middle distance mark Dann has not broken.
"Nicole has done so much for this program," said head coach Mike Rohl. "I am so very proud of what she has accomplished. We will miss her greatly next year."
Nicole graduated last week with her bachelors degree and plans to continue her education at the graduate level next year.