RELEASE DATE: 5/16/07
FOR IMMEDIATE RELEASE: Nicole Dann Accepted into NCAA National Championships
MANSFIELD – Mountaineer senior standout Nicole Dann has been accepted into the 2007 NCAA Division II National Track and Field Championships hosted by Johnson C. Smith University in Charlotte, NC from May 24-26.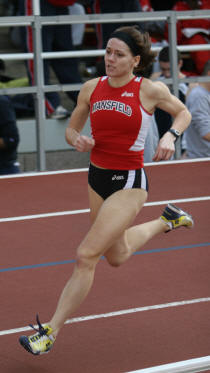 The final fields were announced on Monday when Dann learned that she had secured the 12th seed in the 1500 meter run and would be heading to Nationals for the first time in her career.
"This is outstanding for Nicole," said head coach Mike Rohl. "We are so proud of what she has been able to accomplish over the last four years and this just seems like the perfect way for her to finish her Mountaineer career."
Dann joins an accomplished list of Mountaineer athletes who have recently attended Nationals. Last outdoor season, Mansfield earned its first All-American when Jeremy Confer placed in the javelin and its second All-American when Chris Cummings became the National runner-up in the 1500 the next day.
Nicole becomes the fifth individual athlete to be accepted into the NCAA meet during coach Rohl's tenure at Mansfield.
She is set to compete in the 1500 meter trials on Thursday, May 24th at 4:20 pm. If she makes the final, she will race in the National Championship on Saturday, May 26th at 5:50pm.
Fellow Mountaineer, Mike Gray, narrowly missed the field as 21 entries in the discus were accepted and Gray sat 25th on the National list. The freshman missed the cut by just .39 of a meter.
"Mike has shocked us all this year I think," says Rohl. "He has outstanding work ethic and a drive to just get better. I'm confident he will have his day on the National stage."