RELEASE DATE: 4/22/07
FOR IMMEDIATE RELEASE: Nicole Dann, Rachel Hall, Marisa Fronczkiewicz, Anine Stanley, Dave Sanford all win events at College Track Championship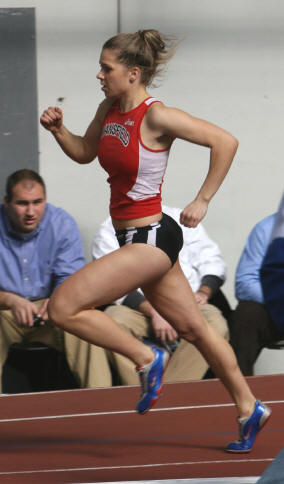 ALLENTOWN – Nicole Dann, Rachel Hall, Marisa Fronczkiewicz, Anine Stanley and Dave Sanford all won individual events at the College Track Championship (CTC) meet held at Desales University Sunday afternoon.
Dann won the 800 meters with a time of 2:20.08 and then finished fifth in the 400 before running the third leg of the winning 4 x 400 relay team (4:06.58) along with teammates Erica Ferguson, Katrina Brumfield and Fronczkiewicz.
Fronczkiewicz was also first in the 400 with a winning time of 60.11 and eighth in the 200 with a time of 26.70 seconds.
Rachel Hall won the 5,000 with a time of 19:37.26 and finished second to qualify in the steeplechase with a time of 11:36.95. Tricia Learn was fourth in the steeplechase at 12:44.85.
Stanley was first in the 3k racewalk at 16:24.3 with Sarah Groat finishing second (16:34.6). Clarissa Correll was third in the 1500 with a person best time of 5:03.76.
The women's 4x800 of Correll, Heather Wida, Katie Foster and Jess Wagner finished second at 4:06.58.
Katrina Brumfield was tied for second in the high jump at 1.58 meters.
Ferguson finished fourth in the 400 meter hurdles in a time of 1:13.08 and then finished fourth in the long jump with a jump of 4.79 meters.
Christyna Cain finished fifth in the 5000 meter run with a time of 20:14.68 while Amanda Streeter finished fifth in the 10,000 meter run.
Amanda Fedish finished seventh in the 100 with a time of 13.13 seconds and then finished fifth in the 200 with a time of 26.35 seconds.
Lindzie Foster was seventh in the 800 with a time of 2:31.33 while Jess Wagner finished eighth in the 1500 with a time of 5:07.73.
The women finished third overall in team scoring with 123 points.
Sanford led the Mountaineer men finishing first in the 800 meters with a winning time of 1:56.41.
Mike Gray was second in the discus (47-06 meters) and third in the shot put (14-67 meters).
Jameson Keeler finished fourth in the javelin with a toss of 170 feet three inches.
The Mountaineers will be busy this week with some athletes competing in the Penn Relays before the entire team travels to Cornell on Sunday for the Big Red Invite.