RELEASE DATE: 3/17/07
FOR IMMEDIATE RELEASE: Dann Wins 800 -- Gray Out-throws D2 Competition at Shamrock Invite
Conway, SC – Nicole Dann outraced a primarily Division I field to win the 800 at the Shamrock Invitational hosted by Coastal Carolina University in Conway, South Carolina on Saturday. Mike Gray led the Mountaineer men with a career day in the throwing events setting a school record in the discus and finishing second in the shot put.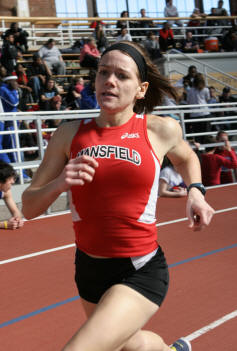 Gray was impressive in all of his events at the Shamrock invite but was most impressive in the discus. The freshman tossed the disc 155 feet-five inches, a new Mansfield school record, and a distance further than anyone in the PSAC has thrown in the last two outdoor seasons. Gray finished sixth in the discus.
Gray also threw a career best in the shot put tossing the shot 50 feet-six inches, out-throwing all Division II competition and finishing second to only one Division I athlete.
The throws weren't enough for Gray however, as he returned in the triple jump. The lanky freshman qualified for finals with a jump of 43 feet-seven inches and finished seventh.
Dann continues her streak of impressive performances. Coming off an indoor season where she was only beaten by Division II competition within the PSAC, she sprinted into form to open the outdoor season with a win in the 800. Dann beat out a primarily Division I field with her time of 2:19.89.
The Mountaineers got a school record performance in the 4x200 when Amanda Fedish, Katrina Brumfield, Marisa Fronczkiewicz, and Erica Ferguson combined to run 1:46.57.
Jessica Wagner, Jess Lown, Clarissa Correll, and Nicole Dann teamed up to set a school record in the Distance Medley relay with a time of 12:44.
Katrina Brumfield also placed for the Mountaineers picking up a fifth place finish in the high jump with a clearance of 5'3" while Amanda Fedish qualified for the PSAC Championships in the 100 with a time of 12.98 seconds.
Chris Greene jumped a personal best 41'7" in the triple jump in his first meet with the Mountaineers. The basketball star looks promising in the jumps as Mansfield enters the outdoor season.
The Mountaineers return to the track on April 7th at the PSAC East meet at Millersville University.