RELEASE DATE: 2/24/07
FOR IMMEDIATE RELEASE: DMR Third, Hall Fifth on Day One of PSAC Track Champs
EAST STROUDSBURG -- The men's DMR finished third and Rachel Hall finished fifth in the 5,000 meter run to highlight day one of the PSAC Track and Field Ch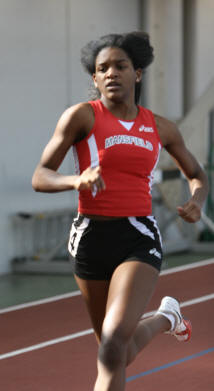 ampionships held at East Stroudsburg.
The distance medley relay team of Dave Sanford, Bryan Morseman, John-Mark Stoltz, and Bryan Falcone finished third in a time of 10:16.06 and scored six team points.
On the women's side, senior Rachel Hall finished fifth in the 5,000 meter run with a time of 18:25.63.
Jess Lown and Katie Foster both score points in the Pentathlon for the Mountaineers with Lown finishing sixth with 2,729 points and Foster finishing eighth with 2,679 points. Both scores were personal bests for the Mountaineer pentathletes.
Rounding out the scoring from day one were the women's DMR and 4x800 relays. Heather Wida, Sarah Pinkowski, Christyna Cain, and Jessica Wagner teamed up in each relay and brought home two eighth place finishes. The DMR finished with a time of 13:18 and the 4x800 finished in 10:22.26.
In the preliminary races, Marisa Fronczkiewicz qualified for the finals of the 400 meter run which will take place tomorrow afternoon. Her time of 60.61 seconds was a season best.
Amanda Fedish was 10th in the 200 with a personal best time of 26.50 while Fronczkiewicz also ran a PR of 26.83.
The Mountaineers continue action tomorrow afternoon with the finals of all remaining events. Check back tomorrow evening for complete results.