RELEASE DATE: 2/25/07
FOR IMMEDIATE RELEASE: Dave Sanford and Nicole Dann earn All-PSAC honors at Indoor Championship Ė Sanford second in 800, Dann sets school record in 800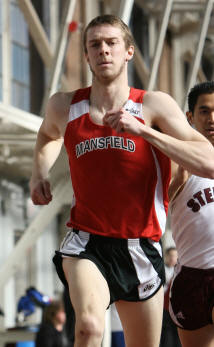 East Stroudsburg Ė Dave Sanford finished second in the menís 800 and Nicole Dann was third in the womenís 800 to lead the Mansfield menís and womenís teams at the Pennsylvania State Athletic Conference Indoor Track and Field Championship at Koehler Fieldhouse Sunday afternoon.
The Mountaineer women finished 10th overall with 23 points while the men were 11th with 17 points. Slippery Rock won the womenís competition with 162.5 team points while Lock Haven won the menís with140 points.
ďDave (Sanford) ran 700 meters without a shoe and still finished second,Ē said head coach Mike Rohl. ďThatís just an unheard of performance. Nicole was equally impressive. She went out with the goal of earning a spot in the national championship in the mile and just got swallowed up in the end, but came right back with a school record time in the 800. Thatís two impressive performances by two outstanding athletes.Ē
Sanfordís effort will long be remembered in PSAC Championship lore. One of the preseason favorites, Sanford lost his shoe when it was stepped on from behind going into a turn, forcing him to run the remaining 700 meters with just one shoe.
He still managed to hold the remainder of the field with the exception of IUPís Sean Strauman who won the race with a meet record and national championship qualifying time of 1:52.82. Sanford finished at 1:55.76.
Dann was the Mountaineers top individual point getter finishing sixth in the mile (5:09.42) before coming back with a third place finish in the 800 breaking her own school record with a time of 2:18.58 to earn All-PSAC honors.
Senior Rachel Hall was fifth in the 5000 at 18:25.63 while Marisa Fronczkiewicz was seventh in the 400 with a time of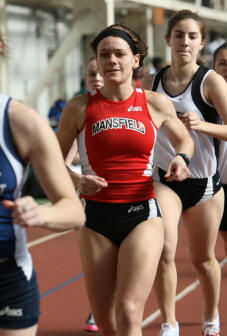 1:00.82. Katrina Brumfield just missed out on picking up points. Brumfield was tied with six other jumpers for fourth place in the high jump with a 5-03.25 mark but lost out in the scoring on number of jumps.
The womenís 4 x 400 relay team of Brumfield, Dann, Fronczkiewicz and Erica Ferguson earned a team point finishing eighth with a time of 4:08.07.
Bryan Morseman helped the menís cause with a sixth place finish in the mile (4:19.04). Mike Grey just missed scoring finished one place and one inch out with a toss of 46-08.00 in the shot put.